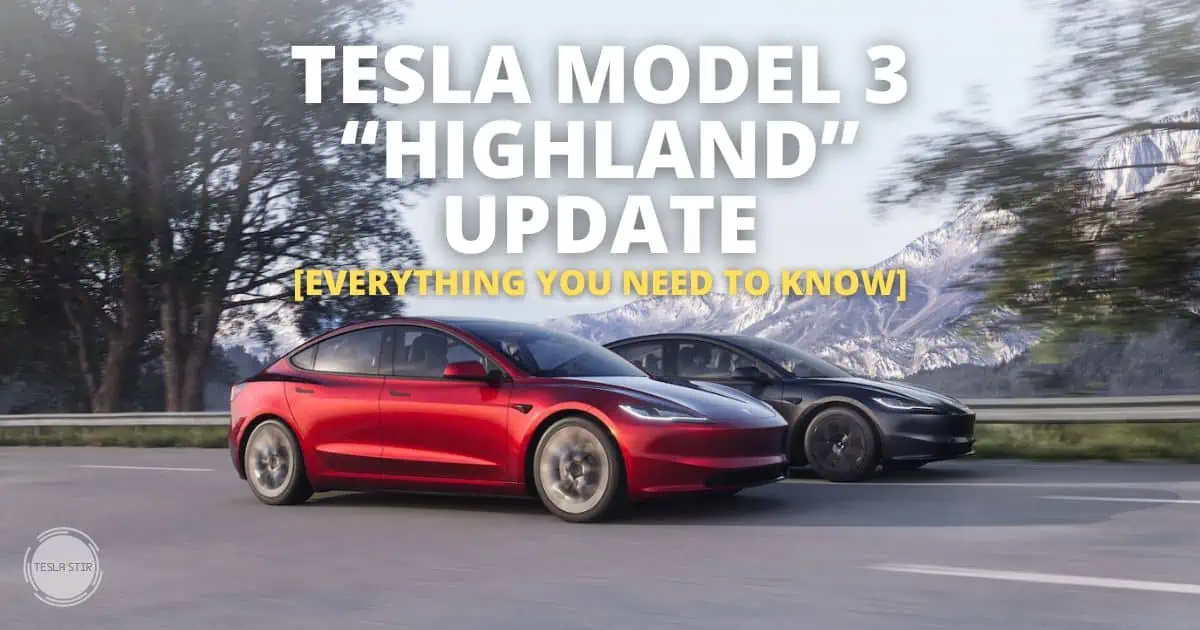 The much-anticipated release of the 2023 Tesla Model 3, dubbed the Highland upgrade, is finally here (2024 for those of us residing in the UK).
One announcement, and my 2019 M3 LR is now a vintage classic in the world of electric speedsters! 😂
Model 3 is Tesla's most popular EV – there are 2Mn+ of them already sold worldwide. Now, with this overhaul, the Model 3 just got even better.
Get ready to rev up your excitement as we dive into all the latest and greatest from the EV wizardry of Tesla!
The new Model 3 2023 refresh has undergone many changes to improve its style, aerodynamics, efficiency, luxury, comfort, and safety.
The changes include numerous alterations compared to the original version: 50% new parts, a revamped front with the lowest aerodynamic drag on a Tesla ever, extended range, and other interior upgrades, such as ventilated seats, an upgraded audio system and a new rear display.
There's a lot more, and in this article, I will walk you through every change to Tesla's most popular EV, the Model 3.
Get ready to rev up your excitement as we dive into all the latest and greatest from the EV wizardry of Tesla!
Tesla Model 3 Highland: Key Changes
50% of the car parts are brand new
New front and tail lights
Side view is primarily unchanged
Revamped interior with new centre console, rear passenger screen and customisable LED lighting
Gear and Indicator stalks removed
Increased range due to reduced aerodynamic drag (lowest ever on a Tesla)
Available in Australia, China's Mainland, Europe, Malaysia, the Middle East, New Zealand and Japan to order; expected Oct 2023 – Mar 2024 delivery
Expected in the UK for pre-order in Oct 2023; delivery sometime in 2024
Here's the official launch announcement from Tesla and a video teaser! Take a look:
As I mentioned, the new Model 3 has undergone some significant changes. Let's look at each in detail and compare it to the old model.
Tesla Model 3 Highland: Exterior
Front Changes
The new Tesla Model 3 has undergone significant updates, making it sleeker and more aerodynamic.
New Headlamps
The new headlights are slimmer with more prominent LED daytime driving lights, giving a slightly more aggressive appearance.
In my opinion, they look a lot more S3XYer. 😉
The fog lamps are also now part of the headlight assembly. On the older model, they are located on the front bumper on either side of the grill/vent.
New Front Bumper
The front bumper has been redesigned to enhance aerodynamics and minimize drag, improving performance. It's got a more aggressive and sporty look.
The front grill/intake has been updated to give it a more aerodynamic air flow – reducing drag and improving range. A single central vent has now replaced the separate housing for old fog lamps and grill to enhance the car's overall look.
Uptick in Frunk
There's a slight lift in the front hood to deflect the wind slightly to have it go "over" the windshield rather than "on" it. This helps in reducing the aerodynamic drag, increasing efficiency. And it also reduces the wind noise inside the cabin.
The Sides
The Model 3 appears unchanged from the side; it's still the same with no visible changes.
But there are quite a few improvements:
You should notice a significant difference in the door open and shut sounds. The doors now have a heavier-pitched sound compared to the current models; you'll have to experience this in person.
The doors are now heavily reinforced, making them even safer to side impact and meet the latest guidelines on safety standards.
Bjørn tried this in person a few times – you can check out his reaction which went something like, "Woah! It sounds way deeper" (I've skipped it to the precise point for you).
On the sides, you'll also notice the new alloy wheels available in 18 and 19-inch sizes.
The tyres also got an overhaul, and Tesla claims they're supposed to be quieter than the current ones.
Let's talk about the updated wheels and tyres in detail.
Rear changes

New Taillights
The newly revised taillights no longer split when opening the tailgate. It's now a single unit.
Trunk Improvements
The trunk now features two motors that assist the boot closing, unlike the previous version which has a single motor. This enhancement leads to a noticeably quieter automatic closure mechanism.
TESLA replaced the "T" emblem at the back
The current Model 3s have the little T emblem on the trunk. That's replaced on the new 2023/2024 version with the word TESLA instead, which is interesting because that's quite a popular aftermarket modification amongst M3 owners.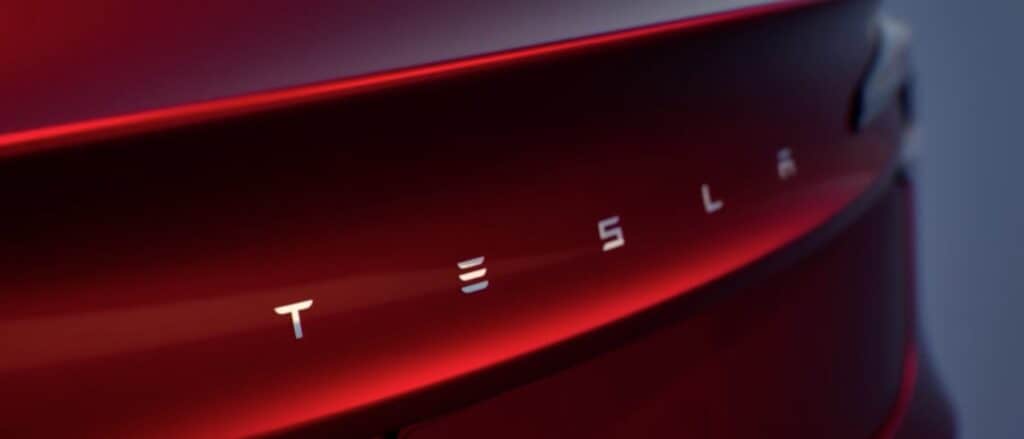 Upgraded Wheels & Tyres
The Model 3 now offers two redesigned alloy wheels, available in 18 and 19 inches. The 19-inch wheels come with unique slats that add to their visual appeal and appear larger than their actual size.
With upgraded tires and wheels, Tesla claims this adds to the increased range and less noise.
The new options are:
18'' Photon Wheels (vs 18'' Aero Wheels)
19'' Nova Wheels (vs 19'' Sport Wheels)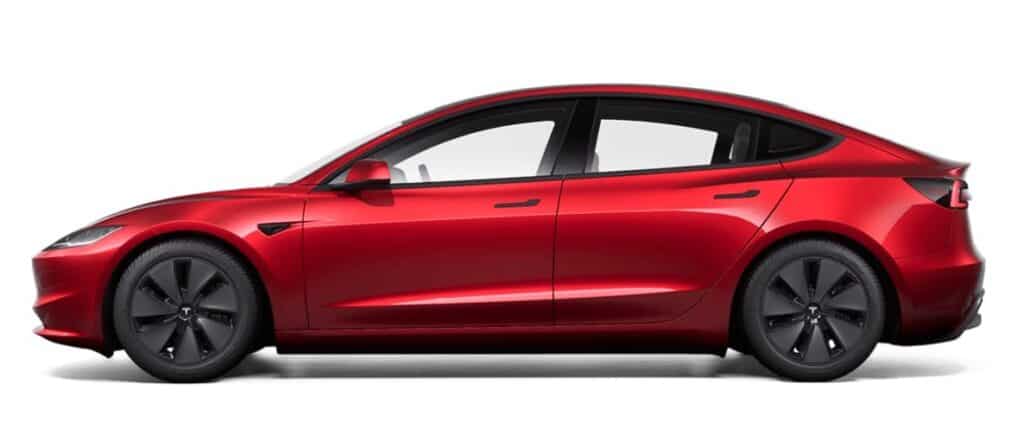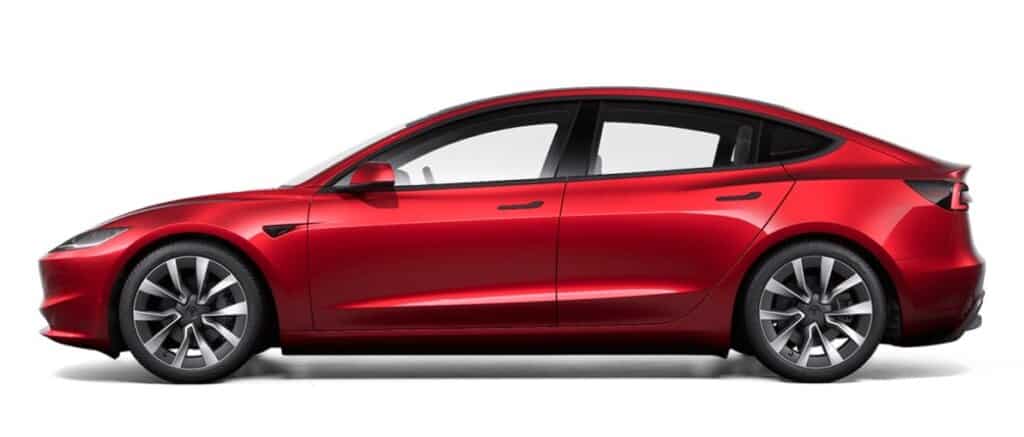 The new tyres, specifically developed for the new Model 3, help minimise road noise, contributing to a quieter drive with their cushioning effect.
Two New Paint Schemes
Looking forward to fresh new colours on the Model 3? You're in luck. With this update, two new paint schemes are available – Ultra Red and Stealth Grey, designed to change with the light and viewing angle.
Ultra Red is similar to the one offered with the new Tesla Model S, and Stealth Grey is a new stylish twist to the existing Midnight Grey option.
Upgraded suspension
Not that Tesla ever admitted that the old Model 3 suspension was not perfect, the new 2024 Model 3 now has some significant improvements to the suspension system.
This includes new springs and dampers, unique tyre designs with added cushioning, and new altered front suspension geometry.
Additionally, refinements have been made to the subframe mounting process to the chassis by increasing the number of bonding points. The bushings have also been given an upgrade. Combining these enhancements helps create a smoother, more luxurious ride.
There's still no air suspension like the Model S/X, though.
Tesla Model 3 Highland: Interior
A Quieter Cabin
The new Highland Tesla Model 3 has many enhancements that improve the overall soundproofing. The acoustic laminated glass, thicker insulation, new tyres and more sound-absorbing materials in the door panels have all contributed to a much quieter cabin.
According to Tesla, all these efforts have led to significant improvements in wind noise and ambient noise, making your ride more enjoyable and comfortable. This has led to:
30% reduction in wind/ambient noise
25% improvement in impact noise
20% improvement in road noise
Acoustic Glass
The updated Tesla Model 3 features acoustic glass on not only the windshield and front windows but also the rear windows and the rear glass.
The Model 3 now essentially has 360-degree acoustic glass, and this helps to minimise outside noise, giving a whisper-quiet cabin.
Sound Insulation
Tesla has added more sound insulation throughout the car to block outside noise, creating a quieter and more peaceful driving experience.
Changes to the Bonnet (Trunk)
In addition to the design changes in bodywork, Tesla has introduced a slight modification to the bonnet to deflect wind over the windscreen and reduce wind noise.
Dashboard Modifications
The new Tesla Model 3 features an updated dashboard design that maintains the large landscape screen and minimalist appearance.
The structure has been completely altered to incorporate customisable LED lighting, a new screen with thinner bezels and a wider central vent.
The wooden panel has been replaced with a new design showcasing luxurious textured/woven material.
Revamped Center Touchscreen
The new Tesla Model 3 features an enhanced display screen that is brighter, has smaller bezels, better contrast, and is more responsive than its predecessor.
It's also a tad bit bigger at 15.4 inches compared to the 15 inches on current models, giving you more screen space.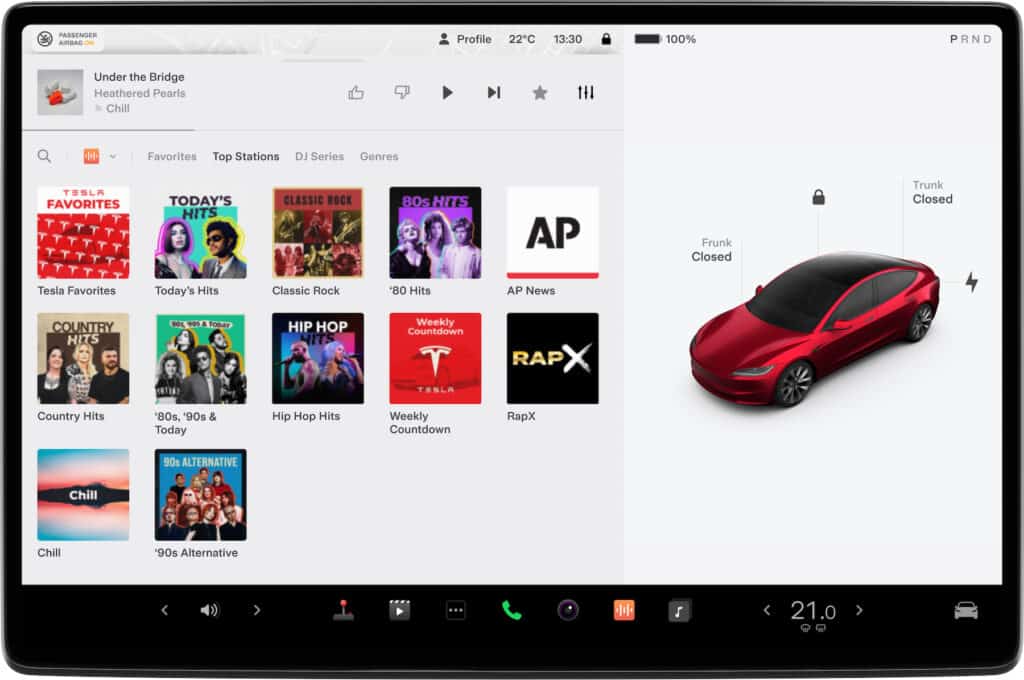 Ventilation System Upgrade
The upgraded ventilation system allows you to control the passenger air system independently of the driver's side. This resolves issues related to disagreements on fan speed between you and your passengers.
Centre Console Makeover
The centre console has been redesigned with refined aluminium features to deliver a more luxurious, expensive feel. Tesla has also improved the quality of materials inside the car to help reduce noise levels and contribute to overall cabin comfort.
Ambient Lighting
Multicolour ambient LED lighting extends from the dash to front and rear doors, customizable to your taste.
Ventilated Front Seats
The updated Model 3s come standard with ventilated front seats with air-conditioning vents built into the seat cushions.
This means you can not only enjoy heated front seats but also experience the cooling effect of the ventilated front seats. This will make your journeys in the car during warm weather even more comfortable.
Pretty cool!
The seats already have the heating feature, so this is a great addition that was earlier available only on the more expensive Tesla Model S and X.
You can even ventilate your front seats from your phone remotely ahead of time or set them to adjust automatically with climate controls.
The rear seats also carry the perforated look, just like the front seats, but they don't have the ventilated cooling feature.
New Steering Wheel
The revamped steering wheel now contains touch buttons with turn signals, light controls, horn, wiper controls, microphone toggle and a new camera button.
The indicators are directly built into it and no longer require stalks for cruise control or indicators.
Additionally, the horn has been conveniently relocated to the centre of the wheel.
Upgraded Sound
The new Model 3 features an upgraded audio experience with 17 speakers rather than the previous 14. It also features dual subwoofers and dual amplifiers, compared to just one on the earlier model.
This provides even more bass and punch, making your driving experience more immersive.
The premium audio on my 2019 Model 3 LR is incredible already; this takes the immersive sound experience up a few notches!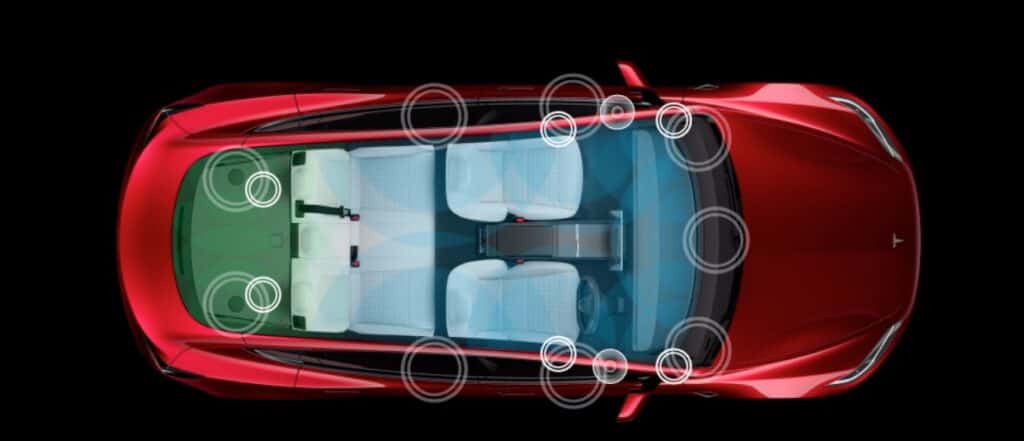 New Rear Passenger Screen
Like the big brothers Model S and X, Model 3s now feature a new 8" touchscreen with climate controls and entertainment for rear passengers.
This screen allows rear passengers to control the stereo, climate control, and even enjoy movies and games whilst seated in the back.
Your passengers at the back, especially kids, will love it.
Tesla has taken customer feedback into account with this one! Since adding the rear screen to the refreshed Model S/X models, it has gained significant popularity as an aftermarket modification for Model 3s and Ys.
Upgraded Microphones
The new upgraded dual-microphone system ensures better-quality audio during phone calls.
Earlier, you had a single microphone. There are two now – one each on the passenger and driver's sides.
New Door cards
The door cards have been refreshed, shedding the wooden panel aesthetic from the 2021 M3 update to the front doors.
Additionally, all four doors now boast an integrated LED ambient lighting strip, lending a delightful enhancement.
Rear Seats
The rear seats are now much more comfortable, with additional room at the back.
Gear and Indicator Stalks Removed
Tesla eliminated the gear and indicator sticks from the 2021 refresh Model S/X, and this update has now found its way into the 2023/2024 Model 3.
The new design has a minimalist approach, with just the steering wheel containing all those functions.
That's how it is from now onwards, and I would expect this to carry on to the Model Y overhaul, dubbed the Juniper update.
It'll take a bit of getting used to, just like with other car buttons. But once your muscle memory adjusts, it should become easier over time. Personally, I haven't driven without a gear/indicator stick yet, so it'll be interesting when these become available for test driving in the UK.
Tesla Model 3 Highland: Technological Upgrades
Enhanced Bluetooth and Wi-Fi Connectivity
Tesla has improved both the Bluetooth and Wi-Fi connectivity in the Model 3. The Wi-Fi connectivity has also been improved, allowing faster downloads and better recognition of your phone as a key.
Updated Charging Ports
The front USB-C port can now charge at 65 Watts, conveniently allowing you to charge devices such as laptops.
There are also two USB-C ports for passengers in the back of the car.
Tesla Model 3 (Highland) Refresh: Price
The price of the new Tesla Model 3 (the highland upgrade) in regions where it's now open for pre-orders is around 10-12% more compared to the existing variant (that got a refresh in 2021).
The Highland upgrade is not just a refresh; it's a complete overhaul of the current variant.
Tesla Model 3 Refresh: Lowest Aerodynamic Drag
The new Tesla Model 3 has a drag coefficient of 0.219 Cd, the lowest drag coefficient for any Tesla ever made.
What does this mean?
By reducing the drag coefficient, Tesla has added an extra 5-7% range to the car. That's without having to alter the drivetrain or battery configuration. In essence, the car is shaped to 'slip' through the air with as little resistance as possible.
For instance, the front lights are now slimmer and sleeker, with more prominent LED daytime running lights.
Additionally, a central vent has replaced the old fog lamp and side vent.
This revamp contributes to the Model 3's aggressive look and improved drag coefficient – down to 0.219 Cd from the already impressive 0.225 Cd in the previous model.
With this upgrade, the 2023 Tesla Model 3 is now the most aerodynamic Tesla available.
What is the drag coefficient?
Drag coefficient measures how easily the car moves through the atmosphere.
Air resistance, or drag, is a primary force that a vehicle needs to overcome, particularly at higher speeds. A car with a low drag coefficient experiences less air friction, thus requiring less energy to propel at a given speed or maintain that speed. Consequently, less battery power is expended, leading to increased range.
Tesla Model 3 Highland Refresh: Range and Performance
Tesla claims that the enhanced aerodynamics of the new Model 3 have led to a significant increase in overall efficiency, estimated at around 5-8%.
This directly translates to expanded range capabilities for the car.
The rear-wheel-drive model can now reach 513 kilometers (WLTP), while the dual motor long-range version can reach 629 kilometers (WLTP).
Standard RWD 513 km (WLTP)
Long Range AWD 629 kilometers (WLTP)
When Will Tesla Model 3 Highland Be Available?
The updated Tesla Model 3 is now available to order in Australie, Mainland China, Europe, Japan, Malaysia, the Middle East, and New Zealand. The expected delivery timelines as shown on Tesla website range from starting in as early as Oct 2023 to March 2024.
Here's how the pre-orders and expected delivery timelines look like for all the regions where Tesla sells its cars:
| Region | Pre-orders | Expected Delivery |
| --- | --- | --- |
| Australia | Open Now (Sep 2023) | Jan – Mar 2024 |
| Mainland China | Open Now (Sep 2023) | Q4 2023 |
| Malaysia | Open Now (Sep 2023) | Late 2023 |
| Europe | Open Now (Sep 2023) | Oct – Nov 2023 |
| Middle East | Open Now (Sep 2023) | Oct – Nov 2023 |
| Japan | Open Now (Sep 2023) | Dec 2023 – Mar 2024 |
| New Zealand | Open Now (Sep 2023) | Jan – Mar 2024 |
| UK | Late 2023 / 2024 | 2024 |
| USA and other zones | Late 2023 / 2024 | 2024 |
2023/2024 Tesla Model 3: Expected Availability
Unfortunately, there's no clear visibility on the availability/pre-orders release date in the UK.
We'll need to wait for the launch date until an unspecified time next year. We'll need to wait and see what happens. Hopefully, we can place orders in late 2023, with deliveries sometime in 2024. That would be great!
There is no news of an announcement/launch in the USA yet, but it should be similar to the UK.
What Do You Think?
With upgrades such as acoustic glass, sound insulation, a better suspension system, ventilated leather seats, LED lighting, a new dash panel, a redesigned steering wheel, and an upgraded centre console, it's quite an exciting refresh to an already great car.
The vehicle also offers improved acoustic glass and sound insulation for a quieter, more comfortable ride. The suspension has been updated to better handle road imperfections, with new springs, dampers, and bushings.
The seats have been redesigned for greater comfort, now offering both heating and ventilation options in the front.
Did I miss anything? Let me know in the comments below.