Tesla Car Wash Mode: Your Complete Guide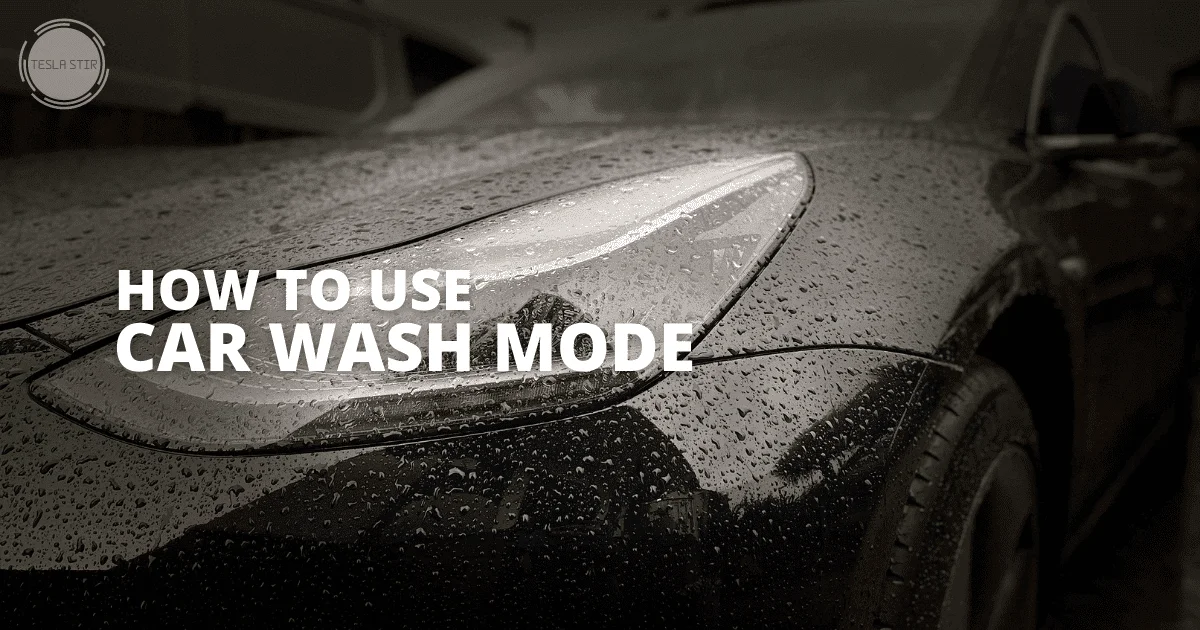 This is your complete guide to the Tesla car wash mode.
Car wash mode on Tesla is a new and convenient feature introduced in the 2021.24.4 software update.
What does it do? In just three taps on your touchscreen, you can put your Tesla in Car Wash Mode to activate a checklist that makes your car safe when passing it through an automated car wash or washing it yourself at home.
In this guide, I will show you everything you need to know about your Tesla's Car Wash Mode.
I will cover: what is Tesla Car Wash Mode, what it does, how to activate it, and how to make the most of it.
Let's jump right in.
What is Tesla Car Wash Mode?
Car Wash Mode is a convenience feature on Tesla's range of electric vehicles introduced in an over-the-air software update (v2021.24.4). Car Wash Mode is pretty much a shortcut to bulk enable/disable certain features of the car when washing or taking it to an automated car wash with a conveyor belt.
What Does Car Wash Mode on Tesla Do?
Car Wash Mode on your Tesla closes all windows, locks the charge port and, disables windshield wipers, sentry mode, walk-away door locks and parking sensor chimes.
Two other buttons appear on the Car Wash Mode screen: Screen Clean Mode and Fold Mirrors, so you don't have to go to the respective settings separately. Nice little touch.
The Car Wash Mode also has an Enable Free Roll option that shifts the car to Neutral and comes in handy for automatic car washes with conveyor belts. This prevents the parking brake from automatically applying if you leave.
In summary, here's everything the Tesla carwash mode does:
Close the windows
Lock the charge port
Close the trunk (if your car is equipped with an automated trunk)
Show the status of trunk and frunk (front trunk)
Disable the automatic wipers
Turn off Sentry Mode
Disable walk-away door locking
Disable parking assist chimes
Show Climate control status (off or recirculating)
How To Enable Car Wash Mode on Tesla?
To put Tesla in car wash mode, follow the below steps:
Pre-requisite. Your Tesla must be in Park.
Step #1. On your Tesla touchscreen, go to Controls > Service > Car Wash Mode.
Step #2. On the alert window, touch "Enter Car Wash Mode"
That's it – this will enable the car wash mode and show you the status of each item on the checklist.
Some of the items like Sentry Mode, disabling park assist chimes and locking windows/charge port will automatically be done for you. And, things like the frunk status or folding mirrors etc. will just be shown for your review so you can take action.
For example, if you have a pre-2020 Model 3, the car won't close the (manual) trunk but will show you the status if it is open so you can make sure to close it before the wash.
You don't want gushes of water getting into your trunk, do you?
How to Enable Free Roll in Car Wash Mode?
The car wash mode has an additional feature that takes away the hassle of manually putting your Tesla in Neutral at a car wash. You can do it as part of the washing checklist itself.
With car wash mode active, you will see an Enable Free Roll button that you can use to (well) enable free roll and put your car in neutral to through automated car wash hassle-free.
By default, the Enable Free Roll button is greyed out. To enable it, press the brake, and shift your car into Drive mode. Once the button is visible, tap it. The button will change to blue when active.
How to Disable Car Wash Mode?
There are two ways to turn off the car wash mode on your Tesla.
Option #1. Press the "Exit Car Wash Mode" button and your vehicle will automatically exit the wash mode.
Option #2. Drive as normal and the wash mode will exit when the vehicle speed exceeds 10mph.
Is Car Wash Mode Useful?
Having a dedicated mode to make all these changes in a batch at the tap of a single button every time you wash your Tesla saves a lot of time.
Having a checklist right on your screen is also a reminder of what you need to do (or not do) when it's time to treat your car to a wash.
Plus, it's just one less thing to worry about. Or, forget. (if you're like me!)
You could say it's a small thing but if you own a Tesla and wash your car often, this feature will save you time and hassle.
Now, you could argue there's nothing new with this feature as you could very well make each of these changes yourselves. And you wouldn't be wrong in saying so. You could do it yourself.
The difference is in the number of taps and the different screens you need to go to.
Is Car Wash Mode Available on All Tesla Models?
Yes, car wash mode is available on all the Tesla Models – Model S, Model 3, redesigned Model X and Model Y (except the old Tesla Model S and X for which it is only available on the redesigned 2021+ version).
The car wash mode feature was initially released only for the Tesla Model 3 and Y. It later became available for the redesigned Model S and X as well.
Can Teslas Go Through a Car Wash?
Yes, Teslas can go through a car wash. However, there are a few caveats or rather points to consider I would like to recommend. You should avoid automatic car washes with hard brushes as they could damage the paint. Maybe not so much so if you have PPF. The best option is to use an automated touchless car wash.
I wash my Model 3 myself and never have taken it for an automated car wash. If I had to, I would only use a touchless one (not sure if there are many around anyways – maybe I will research it one day).
Teslas aren't known for the best paint quality job and I would rather not risk it. Unless you think it is just a car and don't care, go for it. (Just don't say this in front of a true Tesla fan: the bit about it's just a car!)
If you do use an automated touchless car wash, make sure to put your Tesla in Car Wash mode as described above. This will ensure that all the necessary settings are taken care of and you can just relax whilst your Tesla is having a spa day.
The other thing you should be aware of is that the car wash mode disables Sentry Mode; thus, your vehicle will not record any potential vandalism. So, if you are leaving your Tesla unattended for a car wash, be aware of this and take appropriate measures.
Final Thoughts
Tesla Car Wash Mode is another little nice-to-have feature that makes owning a Tesla just that bit more convenient.
It's like having a handy checklist of all the things you need to do (or disable) before sending your Tesla through an automated car wash or washing it yourself.
I hope you found this guide helpful.
If you have any questions about Car Wash Mode on Tesla, feel free to ask them in the comments below or reach out to me on Twitter.
Do you use this feature on your Tesla?
FAQs About Tesla Car Wash Mode