50+ Interesting Elon Musk Facts: A Comprehensive List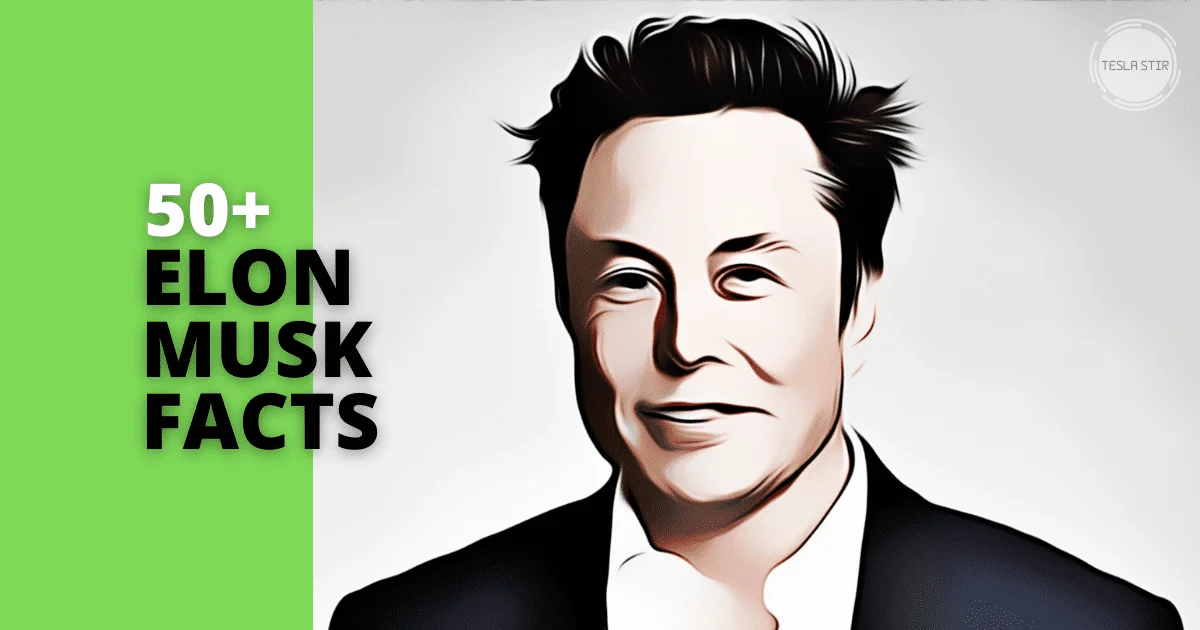 There is no doubt that Elon Musk is one of the most innovative and successful entrepreneurs of our generation. He has helped revolutionise how we think about transportation, technology, and space.
Elon Musk is the founder, CEO and CTO of SpaceX and co-founder of Tesla. He is also the founder of The Boring Company, a tunnel construction company.
In this post, I have curated 50+ Elon Musk facts that will make you even more impressed by him.
From his humble beginnings to impressive achievements, read on to learn everything you need to know about Elon Musk.
If you're a fan of him, you'll love this list of fun and interesting facts about Elon Musk that you may not know.
Before we jump in, let's learn a bit about who Elon Musk is.
Who is Elon Musk?
Elon Musk is a South African-born Canadian-American business magnate, industrial designer, and engineer. He is best known as the co-founder and CEO of Tesla and the founder, CEO, and CTO of SpaceX.
In addition to his work in the aerospace and automotive industries, Musk founded or co-founded several other companies, including SolarCity, OpenAI, and The Boring Company.
While Musk's businesses span a variety of industries, they all share a common goal: to make cutting-edge technology more accessible and affordable for everyone.
In addition to his business ventures, Musk is also a philanthropist and a space exploration advocate. He has been instrumental in developing reusable rockets, electric vehicles, and solar energy. His efforts to make space travel more accessible and sustainable have inspired many worldwide. As a result, Elon Musk is one of the most influential figures in the tech industry today.
Thanks to Musk's drive and vision, he's one of the richest men in the world, with an estimated net worth of $260 billion+.
Elon Musk Facts: Personal Life
Elon Musk was born to a Canadian mother and a South African father. Musk's parents divorced when he was ten years old, and he lived with his father in Pretoria, South Africa for most of his childhood. Below are some facts about Elon Musk's personal life:
When was Elon Musk born?
Elon Musk was born on 28 Jun 1971.
Where was Elon Musk born?
Elon Musk was born in Pretoria, one of the capital cities of South Africa.
Elon Musk's Family
Musk's father, Errol Musk, is a wealthy South African engineer, pilot, and sailor.
Musk's mother, Maye Musk, is a Canadian model and dietitian.
Musk has two siblings: a sister, Tosca Musk, and a brother, Kimbal Musk.
Elon Musk has nine children, including two sets of twins and a triplet.
How tall is Elon Musk?
Elon Musk is 188 cm, or approximately six feet two inches (6′ 2″) tall.
How many children does Elon Musk have?
Elon Musk has nine children in total. That includes a set of twins with Ms Shivon Zilis, two children with Claire Boucher (Grimes), a set of twins and a set of triplets with his first wife, Justine Musk.
Source: NY Times
| Mother | Children |
| --- | --- |
| Ms Shivon Zilis | Two (set of twins) |
| Claire Boucher (Grimes) | Two |
| Justine Musk | Five (set of twins and a set of triplets) |
Elon Musk: Children
How many hours does Elon musk sleep?
Musk unveiled recently at the Full Send Podcast that he sleeps for around six to six and half hours a night. He mentioned that he is fairly nocturnal and goes to bed at about 3 AM and gets up around 9-9:30 AM.
Fun fact: Elon said he has a terrible habit of immediately checking his phone after waking up but it's mainly to check if any emergencies happened overnight at Tesla or SpaceX.
Here's the complete video for The Full Send podcast:
While it's certainly possible to function on less sleep, it's important to remember that everyone is different. Some people simply need more sleep than others in order to function at their best.
How many times has Elon Musk been married?
Elon Musk has been married three times. He was first married to Justine Wilson from 2000-2008, then Talulah Riley from 2010-2012 (whom he remarried in 2013), and most recently, Grimes in 2018.
Elon Musk Childhood Facts
Here is a list of childhood facts about Elon Musk:
Musk was bullied as a child and has gone on record to mention that it was one of the reasons he became interested in computers.
At nine years old, Elon Musk read the entire Encyclopaedia Britannica
Elon bought his first computer at the age of 10 and learned to program video games.
At age 12, Elon Musk sold his first software program, a game called Blastar, for $500.
Elon was interested in technology and business from an early age. He would often read business and science fiction books such as The Hitchhiker's Guide to the Galaxy and The Lord of the Rings trilogy. Musk was also fascinated by space exploration.
Elon Musk Citizenship Facts
Elon Musk has citizenship in South Africa, Canada and the United States of America.
| Citizenship | Duration |
| --- | --- |
| South Africa | 1971 – Present |
| Canada | 1989 – Present |
| Unites States | 2002 – Present |
Elon Musk Citizenship Details (Source: Wikipedia)
Elon Musk Money Facts
How Did Elon Musk Make His Money?
Elon Musk made his fortune by founding and leading some of the most innovative and successful companies of the 21st century.
At the young age of 12 years old, he sold his first software program for $500. This was a game called Blastar.
In 1995, he co-founded Zip2 (an internet city map guide) with his brother. Only four years later, Zip2 was sold for a whopping $307 million and Elon Musk made $22 million from this deal.
In 1999, Elon Musk co-founded the online bank X.com which merged with the finance company Confinity to become what you today know as PayPal.
Only a few years later in 2002, eBay bought PayPal for a massive amount of $1.5 billion. This resulted in Elon Musk's first big fortune as a co-founder earning him $175 million from the acquisition (source: Wikipedia).
He invested $100 million of that money into SpaceX and $70 million into Tesla Motors.
What Companies Does Elon Musk Own?
Elon Musk is the founder, CEO and CTO of SpaceX, and co-founder of Tesla (formerly Tesla Motors). He was also the CEO of SolarCity which was later acquired by Tesla in 2016 and eventually the SolarCity brand was retired to become an arm of Tesla itself. He is also the founder of The Boring Company, a tunnel construction company that plans to alleviate traffic congestion by building tunnels underground.
Musk has also proposed the Hyperloop, a high-speed vactrain transportation system in 2013 but the project didn't come to fruition.
In addition to Tesla, SpaceX, and The Boring Company, Elon Musk also owns Neuralink, a brain-computer interface company that seeks to connect the human brain with artificial intelligence.
How Much is Elon Musk Worth?
Elon Musk's net worth is estimated to be $263.0 billion as of Aug 2022, making him the richest person in the world.
Source: Forbes
Elon Musk Education
Elon Musk graduated from Pretoria Boys High School and then attended the University of Pretoria for five months whilst waiting for a Canadian passport.
He attended Queen's University in Kingston, Ontario for two years before transferring to the University of Pennsylvania, where he studied physics and economics at the Wharton School.
He was accepted at the Stanford University PhD program in materials science but decided instead to pursue a business career.
Companies Founded by Elon Musk
Computer Game Blastar
In 1984, at age 12, Elon Musk created a video game called Blastar, which he sold to a computer magazine for $500.
If you still want to access the original gameplay, a developer ported the game to HTML5, which you can now play in your browser at: http://blastar-1984.appspot.com/
Zip2
In 1995, he co-founded the web software company Zip2 with his brother Kimbal Musk. Zip2 provided maps and business directories to online newspapers, pretty much an internet version of the Yellow Pages.
In 1999, the computer manufacturer Compaq acquired Zip2 for $307 million. Musk got $22 million from this transaction.
X.com and PayPal
In March 1999, Elon Musk co-founded an early online bank, X.com, that merged with Confinity in March 2000 to form PayPal, which specialised in transferring money online.
PayPal was later bought by eBay in 2002 for $1.5 billion and spun off as an independent company in July 2015. Elon Musk got $175 million from this deal.
(Source: Wikipedia)
SpaceX
In 2002, Elon Musk founded SpaceX, a privately held American aerospace manufacturer and space transport services company. The company has developed the Falcon family of launch vehicles and the Dragon spacecraft.
Elon Musk is the founder CEO and chief engineer of SpaceX.
Tesla Motors
Tesla Motors is an electric vehicle manufacturer founded in 2003 by Martin Eberhard and Marc Tarpenning. In 2004, Elon Musk joined Tesla Motors as chairman and product architect, helping to design the Tesla Roadster electric sports car.
The company's first product was the Tesla Roadster, an electric sports car that was launched in 2008.
Elon Musk is the CEO of Tesla since October 2008.
The Boring Company
The Boring Company is an infrastructure and tunnel construction company founded by Elon Musk in 2017. So, it's one of his most recent ventures in the construction/transportation space. The company's vision is to reduce traffic congestion by creating a network of tunnels beneath cities for transportation, utility and freight.
Neuralink
Neuralink is a neurotechnology startup founded by Elon Musk and eight others in 2016, but it became publicly known only in 2017. Neuralink is developing implantable brain-machine interfaces to treat neurological disorders and ultimately enable humans to merge with artificial intelligence. It's also developing a robot that automatically plants this device into human brains.
SolarCity (now part of Tesla)
SolarCity was founded by Elon Musk's cousins Peter Rive and Lyndon Rive in 2006. Elon Musk suggested the idea and helped start the company. He was the chairman of SolarCity from its founding until it was acquired by Tesla in 2016. SolarCity became the largest provider of solar power systems in the United States by 2013.
In 2016, SolarCity was acquired by Tesla for $2.6 billion, joining Tesla's arm for solar and energy storage as Tesla Energy. (source: Tesla Blog)
Open AI
OpenAI, introduced in 2015, is a San Fransisco-based non-profit research company devoted to responsibly advancing artificial intelligence. OpenAI's mission is "to ensure that artificial general intelligence benefits all of humanity."
If you've ever heard of Dall-E AI, which generates images from textual descriptions or GPT-3, which can write content based on a prompt, OpenAI is behind those projects.
Elon Musk co-founded and was chairman of OpenAI. But in 2018, Elon Musk stepped down to avoid any potential conflicts of interest with Tesla Motors, as Tesla was doing a lot of work involving AI themselves.
Elon Musk Tesla Facts
Elon Musk's annual salary from Tesla Motors is $1
Elon Musk almost sold Tesla to Google for $11 billion in 2013
Why Did Elon Musk Name His Company Tesla?
Elon Musk named the company after Nikola Tesla, a pioneering Serbian scientist, electrical engineer and inventor best known for his work on electricity and magnetism. Tesla developed the architecture for the AC induction motors which is what all the Tesla cars use. He also invented the Tesla coil, which is used in radio technology.
Musk said he wanted to name the company after Tesla because he admired his vision and achievements.
Tesla was founded in 2003, and its first product was an electric sports car called the Roadster. The company has since expanded its offerings to include the Model S, a luxury sedan; model 3, a more affordable sedan; Model X, an SUV and Model Y, a family SUV. Tesla also manufactures batteries, solar panels, and other energy-related products.
Tesla's mission is to accelerate the world's transition to sustainable energy. Ultimately, Musk hopes that Tesla will help to wean the world off of fossil fuels and reduce humanity's impact on the environment.
Elon Musk Bought the Tesla Motors Name for $75,000
In 2004, Elon Musk and his co-founder Martin Eberhard bought the Tesla Motors name from a Sacramento-based man named Brad Siewert who had acquired the rights to Tesla Motors ten years earlier. They paid $75,000 for the name.
If the electric car maker wouldn't have the name Tesla, Elon Musk said in the 60 minutes interview that he would have named it Faraday, after another pioneering scientist and inventor, Michael Faraday.
Elon Musk: Movies and TV Shows
Elon Musk has made cameo appearances in a few movies and TV shows.
Iron Man (2010)
Elon is the real-life Tony Stark. He is the inspiration for the Hollywood character Tony Stark (a.k.a. Iron Man), Robert Downey Jr's character in the Iron Man franchise. In fact, parts of Iron Man 2 were filmed inside and outside of SpaceX. Musk even has a cameo in the Iron Man 2 film released in 2010!
Machete Kills (2013)
In Machete Kills, Musk played himself. In the final sequence of the movie, Elon Musk makes a cameo as the SpaceX founder, the company that gives the Falcon 9 rocket, to wish Machete good luck for his mission.
The Big Bang Theory (2015)
In the Thanksgiving episode of The Big Bang Theory Season 9, Sheldon Cooper (played by Jim Parsons) meets Elon Musk while washing dishes for volunteer work.
The Simpsons (2015)
Elon Musk appeared on The Simpsons Season 26 Episode 12 (The Musk Who Fell to Earth) as himself. He lands in the Simpsons' backyard in his Dragon 2 Spacecraft and is in Springfield for inspiration.
South Park (2016)
Elon Musk appeared in three episodes of South Park.
Why Him? (2016)
Elon Musk meets Brian Cranston in a short cameo in the rom-com Why Him?.
Young Sheldon (2017)
Elon Musk did a cameo in an episode of Young Sheldon where he plays himself. He is seen reading the 10-year-old Sheldon's notebook for Falcon 9's rocket booster landing idea, originally dismissed by a NASA scientist.
Ricky & Morty (2020)
Elon Musk starred in the 2020 episode of Rick & Morty as Elon Tusk, running his company Tuskla.
Elon Musk Fun Facts
In March 2018, he launched his own electric car, the Tesla Roadster into space. The car is now orbiting the sun!
Elon Musk owns the classic submarine James Bond car "Lotus Esprit." he bought at a London action for almost $1 million.
Elon Musk Interesting Facts
Elon Musk didn't become an American citizen until 2002, at age 31.
He left Stanford after just two days.
Elon Musk Facts About Space
Musk initially found it impossible to get funding for SpaceX
Elon Musk used the last of his savings on the fourth SpaceX launch which was successful in 2008 after three launches failed.
Musk has reduced the cost of reaching the International Space Station by 90%, bringing it down from $1 billion per mission to just $60 million.
Elon Musk signed a $1.6 billion contract with NASA
In 2015, SpaceX became the first company ever to send a rocket into space and then land it back on Earth.
In 2017, SpaceX became the first company ever to launch a recycled rocket into space for a NASA resupply mission.
In 2018, SpaceX launched the world's most powerful operational rocket, Falcon Heavy.
Elon Musk Milestones Timeline
1971 Elon Musk is born in Pretoria, South Africa
1981 Bought the first computer at the age of 10
1983 Created a software game, Blastar at age 12 and sold to a computer magazine for $500
1995 created online publishing platform Zip 2
1999 sold Zip2 for $300 million
1999 developed online payment system X.com
2000 x.com merged with Paypal parent company, Confinity
2002 eBay acquired Paypal for $1.5 billion
2002 SpaceX established
2003 co-founded Tesla and started designing Tesla Roadster
2006 Roadster introduced
2008 Tesla sedan Model S introduced
2008 SpaceX delivered the first satellite into space
2010 Tesla begins trading on the NASDAQ stock exchange
2015 Model X launched
2018 Falcon launches Roadster into space in Feb 2018
2020 Tesla became the most valuable car maker in July 2020
2021 Elon Musk became the world's richest person in Jan 2021
Wrapping Up
So there you have it, 50+ fun and interesting facts about Elon Musk.
Hopefully, you found some of them interesting and learned something new about this brilliant entrepreneur.
If you're inspired by his story, remember that anything is possible with hard work and determination. Who knows, maybe one day you'll be the one changing the world.
Thanks for reading.
What are some things you didn't know about Elon Musk? Let us know in the comments below!
FAQs