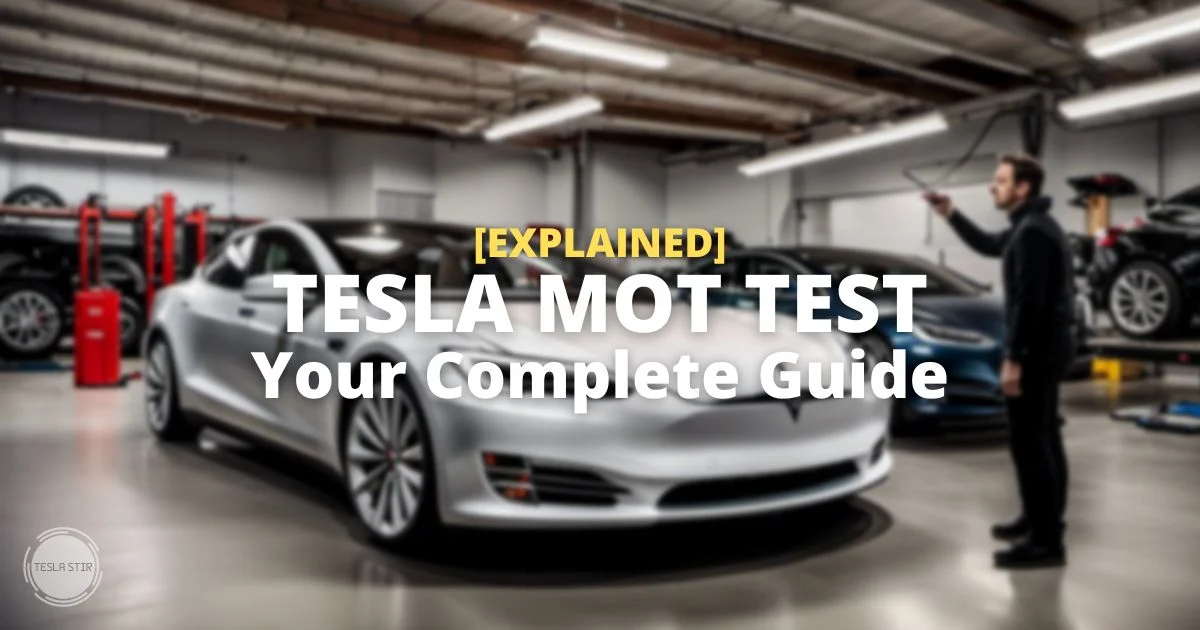 Whether you're a Tesla owner preparing for the MOT testing procedure or simply curious about what a Tesla MOT test entails, this comprehensive guide is here to help.
Acquaint yourself with the intricacies, ensuring you possess all the necessary information.
The MOT (Ministry of Transport) test is crucial to car ownership, ensuring your car's safety, roadworthiness, and emission standards. The process involves assessing various aspects of your vehicle, such as the exterior, interior, lights, steering, suspension, brakes, etc.
The rules are the same for electric vehicles; you must comply with this annual test once your EV is over three years old.
To avoid surprises during the MOT test for your Tesla Model S, Model 3, Model X or Model Y, this guide covers all aspects of the test, ensuring you're well-prepared when your car reaches its mandatory MOT check.
I have had my 2019 Model 3 in for MOT twice, so you can trust I have learned a thing or two about the whole ordeal. If you find anything that's missing or should be covered to help others, please leave me a comment at the end of this post.
This Tesla-specific guide details the key parts of MOT inspection from a Tesla perspective; if it's any different from other cars, and the unique challenges faced during the process.
Additionally, I've included a step-by-step Tesla MOT testing guide for dealing with the mot-testing requirements, providing practical guidance, information about related costs, and answers to common questions, ultimately aiming to provide a smooth and efficient Tesla MOT experience.
Let's get started!
Key Takeaways
MOT is an annual requirement for all vehicles over three years old in the UK, including Tesla EVs.
The cost of MOT cannot be more than £54.95.
You can find cheaper deals (£29.99 to £39.99) with auto centres or your local garage.
What is Tesla MOT Test?
The Tesla MOT Test is a mandatory annual inspection conducted for Tesla vehicles in the United Kingdom that are over three years old. These tests assess vehicle safety and roadworthiness. Tesla cars should be taken to a third-party test centre to have their evaluation and certification completed.
The inspection is vital for maintaining safety and performance standards. It ensures your car meets national safety and environmental benchmarks, allowing you to drive confidently and responsibly.
During the inspection, trained professionals thoroughly examine your Tesla to identify potential issues and verify that it meets the necessary criteria. This not only contributes to the general well-being of your vehicle but can also help prevent costly repairs in the long run.
Tesla MOT Cost (& Deals)
A standard UK MOT Test costs up to £54.95 (inc. VAT). However, there's a lot of competition in this space, and more often than not, you'll be able to find deals through third-party auto centres or your local garage that are much cheaper than this. To give you an idea, I paid £29.99 last year, and this year it was £34.99, inclusive of VAT.
The cost may vary depending on the testing centre and location; however, you will pay no more than the maximum fee of £54.85 set by DVLA for a standard MOT check.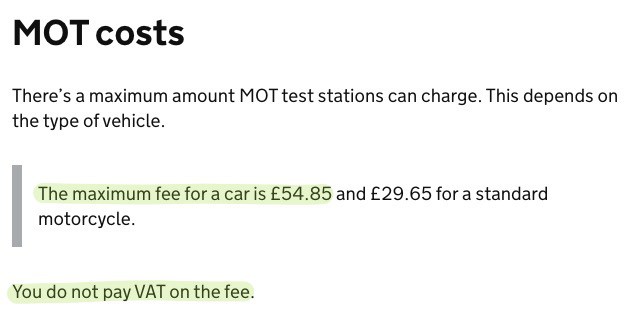 What's Tested in an MOT for Tesla?
An MOT test examines several key parts to ensure your vehicle's safety and compliance with regulations. Here, I have listed a brief overview of these essential aspects:
Exterior Checks
During the Tesla MOT check, inspectors perform thorough exterior checks to ensure your vehicle's safety and roadworthiness.
Lights: The lights on your Tesla, including the headlights, brake lights, indicators, and rear lights, are crucial for maintaining visibility and effective communication while driving. The tester will thoroughly examine these lights' functionality during the checks.
Tyres & Wheels: The condition of the tyres is evaluated to ensure sufficient tread depth (1.6mm in the UK), absence of sidewall damage, no lumps, bulges, tears, or cord exposure, and appropriate inflation levels. Additionally, there should be no indications of excessive wear or damage. Wheels are also assessed for any damage or irregularities.
Brakes: The braking components, including brake pads and discs, undergo inspection to ensure optimal stopping power. The test also verifies the proper engagement of the parking brake.
Steering & Suspension: The technician will assess your Tesla's suspension system, looking for fluid leaks, worn components, and appropriate air suspension settings. They will also assess the steering, checking the power steering fluid and ensuring the system operates smoothly.
Interior Checks
Certain interior components of the car are covered in the MOT test, such as seatbelts, seats, and steering wheel, to ensure appropriate functionality and safety.
Seatbelts: Seatbelts are analysed so they are in good working order, with their clips properly attached and all webbing intact. There should be no signs of any damage or fraying.
Horn: The horn is tested to ensure it emits a loud and audible sound.
Windscreen: Inspectors examine the front windscreen for any damage or chips on both sides of the glass. If there are more than two chips, each over 10mm in size, then repairs are required before the completion of the test.
Wipers: The wiper blades are checked for any signs of damage or irregular operation. They should be able to clear the windscreen effectively, providing a clear and unobstructed view for the driver.
Seats & Head Restraints: Seats and head restraints must be in the correct position and fastened securely. The inspector will also look for any damage or signs of wear and tear.
Mirrors: During the MOT test, all mirrors on your Tesla (including side mirrors and rear-view mirror) are thoroughly inspected. They must be securely mounted, present no cracks or damage, and provide a clear, unobstructed view of the road behind and to the car's sides.
Under the hood
In this section, we delve into "Under the Hood" of your Tesla, exploring the integral components examined:
Battery: The battery and its components are inspected for any signs of corrosion, leaks, or wear and tear, ensuring they're securely fastened, and the battery delivers the correct voltage.
Power steering fluid: The power steering fluid level is checked, and the system is inspected for leaks or malfunctions.
Coolant: The coolant level in your Tesla is assessed, and the system is examined for any signs of leaks or damage. Proper coolant level is crucial for maintaining the engine's temperature.
Brake fluid: The brake fluid level is checked, and the system is inspected for any signs of leaks or wear and tear, ensuring optimal braking performance.
Structural stability: The specialist will look for any signs of corrosion, rust, excessive wear or damage to the car's frame.
While this is not an exhaustive list of all the elements involved in a Tesla MOT inspection, it should give you an idea of what happens on the day and how you can ensure your Tesla is up to the task with simple checks pre-MOT.
For example, if you know your wiper blades have outdone their natural life, you can replace them yourself before the test to avoid any issues.
How to Prepare Your Tesla for MOT Test?
Did you know, according to Halfords, almost 50% of faults discovered during an MOT inspection could easily be prevented with simple maintenance?
There's not much you need to do here because Teslas don't need much maintenance like other cars. And if this is your first MOT, there's not much to bother about.
However, you can take care of a few things to ensure your Tesla is in top condition for the MOT test evaluation and certification.
Tesla Specific Pre-MOT Checklist
Turn off any security settings, such as "Pin to Drive." Disabling these features will save time and prevent confusion.
If you have Smart Air Suspension, change the setting to Very High. Later, make sure Jack Mode is active before the technician plans to raise the lift. I have covered this in detail below.
It's good to carry the jack pads in case the garage doesn't have them.
Acquaint yourself on how to put the car in neutral with no driver inside. (Guide)
Know where to check the VIN
Know where to check the Odometer reading
Pre-MOT Check (General Tips)
Check your vehicle's body for any noticeable damage.
Check all the lights, including front, rear, registration plate, and reflectors, are working.
Make sure your horn is working.
Examine the windscreen wipers to ensure they're in good working condition and can clear the windscreen effectively.
Make sure your steering or suspension is not making any weird noises.
Check the tyres for any signs of wear & tear or damage.
Make sure your seatbelts are in working condition and fastened correctly.
Check all the mirrors are securely mounted and not cracked or damaged.
Ensure your brakes have good stopping power and no sponginess when you press the pedal.
For each of these issues, you can either address the problem yourself (like inflating tyres or replacing wiper blades) or, if there are any more complex problems, like suspension or lights not working, then you can book a service visit with Tesla (it could be covered under 4-year / 50K miles warranty).
Regular Maintenance Tips
Check the tyre pressure and adjust it if necessary, ensuring the tyres are at the recommended inflation level. Under or over-inflated tyres can cause uneven wear and reduce the lifespan of your tyres.
Keep your vehicle clean for enhanced visibility, especially the headlamps, tail lamps, and windows.
Clean the windows, windscreen and mirrors to ensure optimum visibility when driving.
Ensure all interior components are securely fastened and in working order, including seatbelts, seats, horns, etc.
Inspect your vehicle's fluid levels, such as coolant and windshield washer fluids, and top up if needed.
Regularly check the brake pads and discs for signs of wear or damage.
Tesla MOT Test: Common Challenges Faced
What's Different for Tesla Models when it comes to MOT?
Well, there are a few exceptions that the MoT station should consider when it comes to Teslas.
Things are a lot better now with test centres training their staff on what to expect when it comes to electric vehicles, but go through the list below so you know what's different for Tesla cars.
Teslas with air suspension
If your Tesla has Smart Air Suspension, it has the ability to self-level automatically, even when power is off.
Go to Controls > Suspension and change the setting to Very High.
Activate Jack Mode to make sure self-levelling is disabled before lifting or jacking the Tesla on the ramp.
This is crucial, as failure to do so can lead to suspension damage.
Jacking
Teslas have designated locations (jacking points) on the vehicle's underbody. You should only use these points when lifting the vehicle during the MOT test, as using incorrect points can cause damage to the high-voltage battery and other critical components. Ensure that the tester knows these specific jacking points to avoid any issues.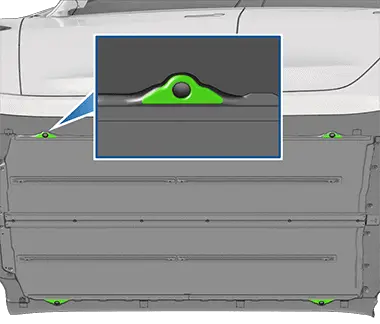 Carrying lift pads is always a good option to ensure correct lifting on the jacking points (if the MoT centre doesn't have them. Most do now, though.)
However, every garage might not be familiar with this, leading to potential suspension damage or dangerous consequences. So ask and, if required, to avoid any issues, provide the four required lift pads to the test centre if they don't already have them.
Charging
The vehicle should never be raised with a charging cable connected, even if the car is not actively charging.
Regenerative Braking
The regen feature in Teslas may confuse MOT testers. Some might consider it as an issue which could affect the test result. To avoid any discrepancy, ensure the tester knows the regen feature and how it differs from traditional braking systems. Things are a lot better now, with EVs gaining traction in the market.
Putting in Neutral
The wheels need to move freely for MOT checks to be made when it's on the ramp. However, Teslas vehicles automatically engage the parking brake when it detects no driver in the seat even when you've already engaged the Neutral mode.
If you're in the driving seat, moving the gear stalk halfway in either direction puts the car in neutral. But you need to stay in the vehicle to keep it engaged.
When there's no one in the driving seat, which is the case for MOT checks, you must use the Tow Mode or Transport Mode, which enables the vehicle to shift into neutral and release the parking brake.
To enable Tow Mode, press the brake pedal in Park mode. Then, use the touchscreen Controls > Settings > Service & Reset > Tow Mode.
To enable Transport Mode, press the brake pedal in Park mode. Then, go to Controls > Service > Towing. Touch and hold Transport Mode.
This will release the parking brake. After this, the car will roll freely without an occupant, so ensure it's done when it's on the ramp and about to be raised.
VIN Locations
During the test, the visual inspection includes checking the Vehicle Identification Number (VIN).
The VIN for all Tesla vehicles can be found on the front left-hand corner of the windscreen for all models).
In addition to this, it can be seen in other places depending on the model, year of manufacture and VIN number:
Driver's side door jab (all models except Model 3/Y with VIN starting LRW)
Under the right-hand front seat (Model 3/Y with VIN starting with LRW)
Under the right-hand upper B-Pillar trim (Model 3/Y with VIN starting with 5YJ)
Under the right-hand rear sill trim (Model Y with VIN starting with XP7 and Model X)
Under the rear underhood apron on the front cross member (Model S up to Sep 2015)
Under the right-hand front door sill trim (Model S Sep 2015+)
Where is the Odometer reading?
That's what the technician asked me on my first MOT with Tesla. He had finished the test but couldn't find the odometer reading.
The odometer reading on a Tesla vehicle can be found on the touchscreen under Controls > Software.
Another place to find it is in the Trips section by going to Controls > Trips.
You can also check the odometer reading from the mobile app when you're away from the vehicle – that's how I quickly gave the engineer my reading without having to go to the car. He seemed pretty impressed!
Failure and Retesting
Handling a Failed MOT Test
If your Tesla fails the MOT test, it's important to address the necessary repairs promptly. It's crucial to rectify any issues before retesting, as driving a vehicle that fails an MOT test can result in fines and invalid insurance.
Understanding Retesting Procedures
Once the necessary repairs have been made, it's time for a retest. If you leave your Tesla at the test centre for repairs and it's retested within ten working days, you'll only require a partial retest, free of charge. However, if the vehicle is not retested within this time frame, a full retest may be needed, which could incur additional costs.
Where Can I Get My Tesla MOT Done?
You can take your vehicle to a local MOT test centre to get your Tesla MOT done. It can be a chain like Halfords, Kwik Fit, or an independent garage.
The UK government authorises these centres to inspect and certify the safety and roadworthiness of your vehicle.
Online reviews and recommendations from other Tesla owners can be very helpful in identifying a suitable garage. So feel free to ask on Tesla forums and groups.
Don't worry about taking your Tesla to a local garage; many Tesla owners have done this hassle-free. Just remember to inquire if the garage has experience with electric vehicles (EVs) – it'll ensure a smoother and quicker process.
Don't be surprised if you stumble upon a garage that's like, "We don't touch Teslas."
You can even offer to share this guide with them (or the official one from Tesla) to help them understand the differences that a Tesla vehicle poses during the testing.
Tesla MOT Test: Legal Implications
In the United Kingdom, the Ministry of Transport (MOT) test is an obligatory yearly assessment of vehicle safety, roadworthiness, and exhaust emissions for most cars over three years old, including your Tesla. When your Tesla reaches this age, you must ensure it undergoes an MOT test at a suitable third-party test centre.
Penalties for Tesla MOT Non-compliance
Failing to comply with the legal requirements surrounding MOT testing can lead to significant consequences. If you drive your Tesla without a valid MOT certificate, you could face a fine of up to £1,000. Additionally, your vehicle insurance may become invalid, placing you at financial risk in the event of an accident.
Moreover, driving a Tesla with severe defects could result in even steeper penalties. For instance, if your vehicle is found to be in a dangerous condition, you may be fined up to £2,500, receive three penalty points on your licence, and face a potential driving ban.
To avoid such consequences, always ensure your Tesla has a valid MOT certificate and promptly address any issues identified during inspections.
Wrapping Up
So now that you've gone through this guide, you will know how to get your Tesla MOT check sorted.
Ensure that the garage you've picked has experience with Teslas or access to Tesla-specific information. Tesla's MOT guidance document (link below) is an invaluable resource to help testers conduct a thorough evaluation efficiently.
And, of course, don't forget to check for deals and discounts on MOT tests.
If you need help, don't hesitate to leave me a comment below or ask other Tesla owners who have gone through the same process.
Good luck!
Additional Resources:
FAQs on MOT for Teslas