Tesla Joe Mode: What It Is And How It Works?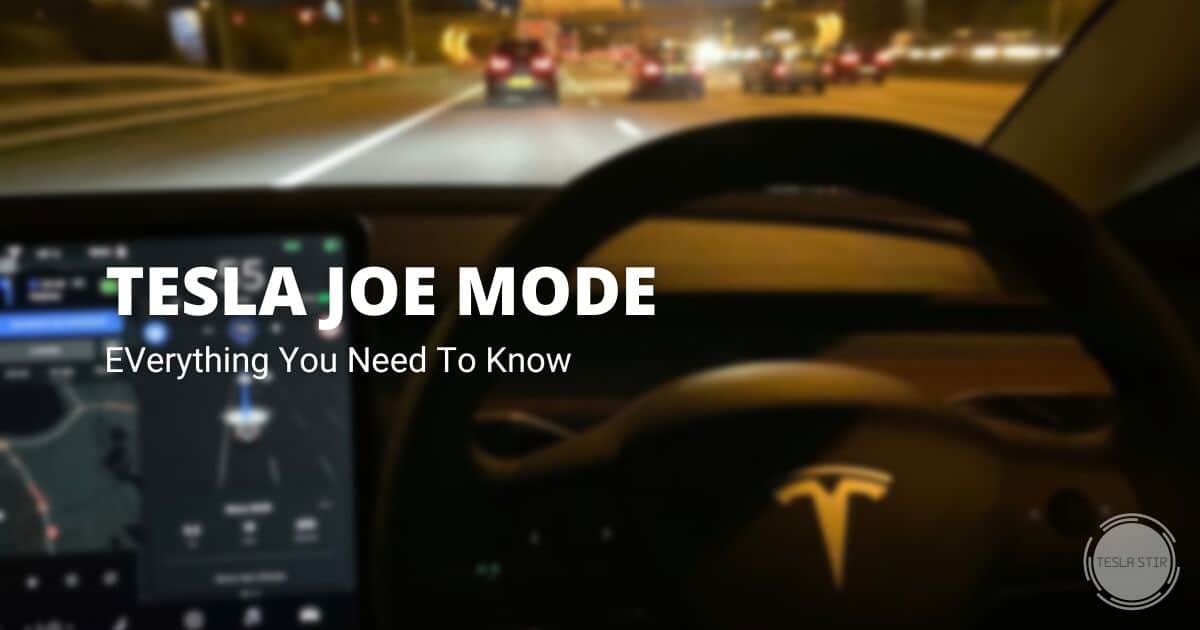 If you're a Tesla owner and wished the chimes were quieter, you'll be happy to learn about Joe Mode. This is your complete guide to Tesla Joe Mode so you can have a quiet cabin for your loved ones.
What is Joe Mode on Tesla? Joe Mode is a feature that's created to reduce the sound of the non-critical chimes inside the car, especially for passengers in the rear seats, who might find the standard chime volume disruptive.
Got kids sleeping in the backseat? No problem, Joe Mode will make sure they stay asleep by reducing the chime volume.
Keep reading to learn more about how Joe Mode works and how to enable it!
What is Tesla Joe Mode?
Joe Mode is an audio setting in your Tesla that allows you to reduce the chime volume for alerts and notifications by 50% and have fewer distractions for your passengers. It's ideal when you don't want your passengers to hear useless notifications because they only concern the driver.
As has happened on many previous occasions when Tesla rolled out new software based on customer suggestions on Twitter, it was believed this time around, too.
Tesla mentioned Joe as a guy from the internet in their v10 release notes.

Elon later confirmed that Joe Mode was named after his friend Joe who suggested this feature.
How Does Tesla Joe Mode Work?
Joe mode works by reducing the volume of notification beeps and chimes by half, making it more tolerable for the passengers in the car. This mode is especially useful when driving with small children, who might be bothered by the sound of alerts.
When you've got kids sleeping in the back, any noise can disrupt their sleep. In such situations, the Tesla alert sounds can be jarring.
But with Joe Mode, you can reduce the volume of these chimes by 50%, making it less likely to wake up your children so your kids can (hopefully) stay asleep in the car.
So having Joe Mode can be a lifesaver. You can still hear the chimes when you have Joe Mode enabled, but they're softer and not as disruptive.
How to Turn On Joe Mode on Tesla?
You can easily activate Joe Mode in your Tesla by following these simple steps:
Step #1. Inside your Tesla, go to Controls > Safety > Joe Mode
Step #2. Switch Joe Mode to On
When to Use Joe Mode?
You'll generally find the Joe Mode quite useful when you want to reduce distractions and noise for your passengers without sacrificing safety. Below are a few examples:
When you travel with kids
During an overnight road trip when you have kids or passengers sleeping in the back
When you're using your Tesla as a taxi or rideshare service and don't want distraction for your passengers
When you have pets in the car that might get agitated by loud noises
Whenever you want to have a more peaceful and quiet drive
How to Turn Off Joe Mode?
Like you turn it on, you can easily deactivate Joe Mode in your Tesla.
To turn Joe Mode off, simply follow the same steps as above and switch Joe Mode to Off.
Step #1. Go to Controls > Safety > Joe Mode
Step #2. Switch Joe Mode to Off
Is Joe Mode Available On All Tesla Models?
Yes, Joe Mode is a software feature available on all Tesla vehicles – Model 3, Model Y, Model S and the Model X. It was released in Sep 2019 as part of the v10 software update (over-the-air).
Tesla Joe Mode: Summary
There you have it – your detailed guide to the Joe Mode in Tesla.
Joe Mode helps in reducing distractions and noise for your passengers without sacrificing safety.
To enable Joe Mode, go to Controls > Safety > Joe Mode and toggle it to On. To turn it off, follow the same steps and switch Joe Mode to Off.
For me, Joe Mode is another small example showing that Tesla listens to its customers and is always looking for ways to improve the driving experience.
Joe Mode is a great feature that makes your drive more peaceful, quiet, and relaxed – especially when you have passengers in the car.
Since Joe Mode was released, I have always had it on.
Do you use Joe Mode? Let me know your thoughts below.
I hope you found this guide helpful. If you have any questions, feel free to reach out to us anytime.
Until next time!
Joe Mode Tesla: FAQs