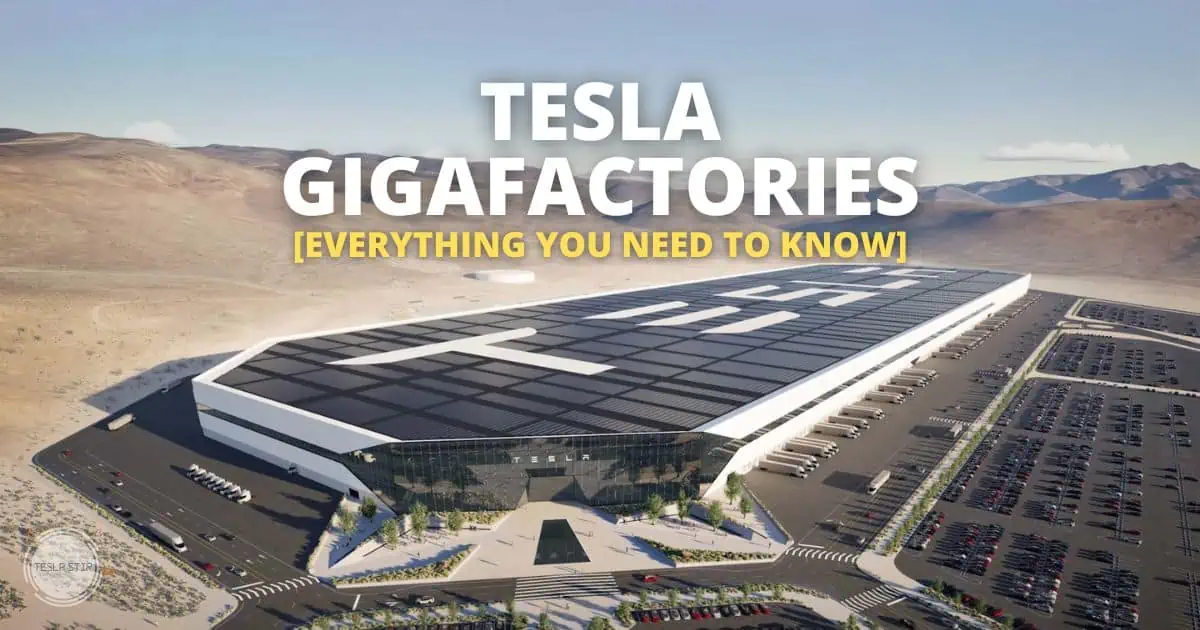 Tesla has revolutionised the automotive industry with its innovative electric vehicles. A crucial factor in this process is their Gigafactories.
These behemoth production facilities, strategically located around the world, are not only manufacturing hubs for Tesla's state-of-the-art EVs, but they also produce battery packs, Superchargers and electronic components integral to the functioning of these vehicles.
But where are these factories located, and how many Tesla Gigafactories are there?
As of Sep 2023, Tesla has five Gigafactories worldwide. The first Gigafactory (Giga Nevada) began production in 2016 and was followed by Giga New York, Giga Shanghai, Giga Berlin, and Giga Texas. A sixth Gigafactory is planned in Mexico and will be called Giga Mexico.
Apart from these six Gigafactories, Tesla has another factory in Fremont, California (US) that, by Tesla's definition, can't be called a Gigafactory, so it's called the Tesla Fremont factory.
With 65k manufacturing employees and 2M total annual production capacity, each Tesla factory is an impressive feat of engineering, with many boasting large solar roofs to promote energy sustainability.
Stay tuned as we delve deeper into the world of Tesla's Gigafactories, their locations, and their pivotal role in shaping the future of renewable energy.
How Many Tesla Gigafactories Are There In the World?
As of Sep 2023, Tesla has six factories in active operation, five of which are Gigafactories. These factories produce electric vehicles, lithium-ion battery cells, battery packs, solar shingles, chargers, and other products.
Here is a list of all the currently active Tesla factories in the world:
Fremont Factory: Located in California, United States; first manufacturing site for Tesla and produces the Model S, Model X, Model 3, and Model Y.
Gigafactory Nevada: Located in Nevada, United States, it produces battery cells, energy storage products, and electric motors.
Gigafactory New York: Located in Buffalo, New York, it produces solar panels and other related products.
Gigafactory Shanghai: Located in Shanghai, China, this factory produces the Model 3 and Model Y for the Chinese and surrounding markets.
Gigafactory Berlin: Located in Berlin, Germany, Giga Berlin produces the Model Y and other related products.
Gigafactory Texas: Located in Austin, Texas, United States, produces the Model Y and Cybertruck.
As Tesla's global expansion accelerates, the company envisions constructing 10-12 Gigafactories and the next one is currently under construction in Monterey, Mexico.
Let's start by answering this question: What exactly is a Gigafactory?
What is a Gigafactory?
Gigafactory, coined by founder Elon Musk, refers to Tesla's monumental large-scale facilities designed to manufacture Tesla's electric cars and battery products.
The term 'Gigafactory' was first used by Elon Musk in 2013 to symbolise the enormous output potential of these facilities – it's derived from 'gigawatt', a unit of power representing one billion watts. It indicated the factory's capacity to produce batteries that collectively store gigawatts of energy.
Initially, Tesla planned to call only its battery production plants Gigafactories. However, that later changed.
Tesla started naming its electric vehicle production factories Gigafactories, which now refers to the massive production facilities that manufacture electric vehicles and battery products.
The factories are usually named after their geographical location. For instance, Giga Nevada was the first to adopt this nomenclature, named for its location in the state of Nevada. This tradition has been maintained in subsequent factories: Giga New York resides in the state of New York, Giga Shanghai in Shanghai, China, and so forth.
The exception to this rule is the Tesla Fremont Factory, which doesn't qualify for the Giga status by Tesla's definition and thus took on the name of its host city, Fremont, in California.
Look at this jaw-dropping video from Tesla showing what goes inside a Gigafactory (this is from Giga Berlin).
Tesla Factory Locations (Production Sites) in 2023
Let's take a closer look at all the currently operational Tesla Factories.
Tesla Fremont Factory
The Fremont factory in California (USA) is Tesla's first manufacturing facility and the birthplace of the Tesla Model S.
In the past, the original Roadster (1st gen) was also produced at the Fremont factory.
Today, it is the hub for Model S, Model 3, Model X and Model Y EV production.
The Fremont Factory is one of the biggest auto manufacturing facilities in the world, covering 5.5 million square feet on 370 acres of land.
It can produce up to 650,000 vehicles annually, including 550,000 Model 3/Y vehicles and 100,000 Model S/X. The factory is also home to Tesla's seat factory, which produces seats for all of Tesla's vehicles.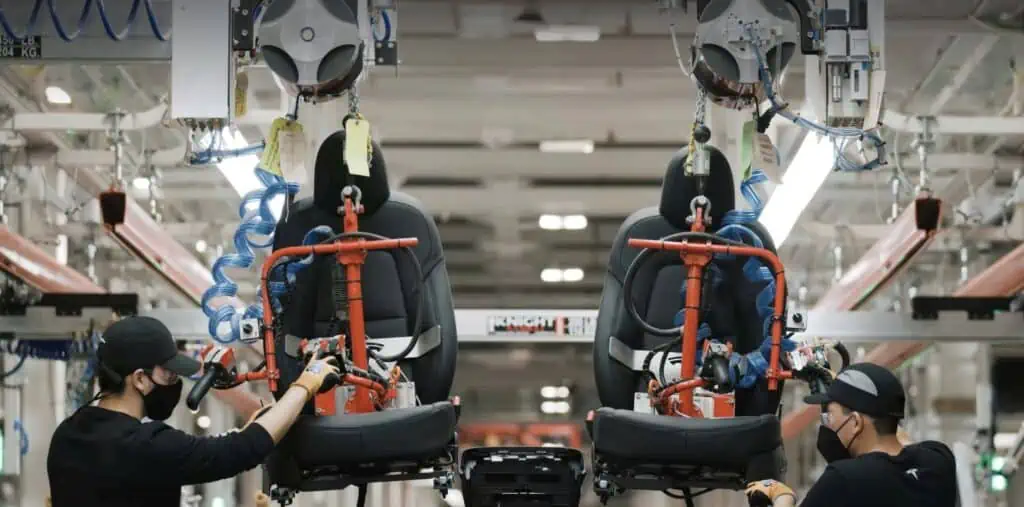 In addition to the Tesla S3XY range, the Tesla Roadster (second generation) will be made at the Tesla Fremont factory with production expected to start in 2024, as confirmed by Elon Musk at the May 2023 shareholder's meeting.
However, let me remind you that the new Tesla Roadster was teased back in 2017 along with Semi, and production was announced to commence in 2020. So, take that production in 2024 with a grain of salt, as schedules in Elon Time usually tend to slip. 😉
The site where the Tesla Fremont factory stands today was a General Motors assembly plant that started in 1962.
Later, the same site was used by NUMMI (a joint venture between General Motors and Toyota until 2009. Tesla acquired it in 2010.
Tesla Fremont is partly powered by renewable energy using a Solar array on its roof.
Check out this video as Elon Musk takes MKBHD on a tour of the Model S/X assembly line in the Fremont factory.
Key Facts
Factory started: Oct 2010
First vehicle delivered: Tesla Model S during a special event on June 22, 2012
Employees: 22,000 as of Aug 2022
What does it do?

Model S, Model 3, Model X and Model Y production
Model S/X electric motors
Model S/X battery packs assembly in-house using battery cells from Japan
Future
Tesla Gigafactory #1: Giga Nevada
Next on the list is Gigafactory Nevada, or Giga 1. It is located in Sparks, Nevada and was Tesla's first factory that got the original Gigafactory nametag.
It's owned and operated by Tesla and employs 11,000 individuals.
It produces battery cells, battery packs, and electric motors that power Tesla's vehicles and is one of the world's highest-volume plants for electric motors, energy storage products, vehicle powertrains, and batteries.
Additionally, it produces stationary energy storage products like the Powerwall and a wide range of vehicle components required for Tesla's electric vehicles.
Constructed in the wake of the original factory in Fremont, California, Giga Nevada spans a vast expanse of 5.4 million square feet, making it the world's largest building in terms of footprint.
With a plan to build 4 million square feet of new manufacturing space, Tesla plans to build two new factories at Giga Nevada: the new 100GWh 4680 cell factory and the first high-volume Tesla Semi factory. This will add another 3,000 employees, taking the total employee count to 14,000 when these two new factories are operational.
The establishment of Giga-1 traces back to 2014 when Tesla committed to invest $3.5 billion in Nevada to construct a facility capable of producing 35 GWh of battery cells annually – sufficient to manufacture around 500,000 vehicles per year source.
This level of battery manufacturing was unprecedented for a single facility at the time, with the expected output being greater than all global battery production in 2013 combined.
Over the years, Nevada Gigafactory has done 37 GWh+ annually (7.3 billion battery cells in total). That's 1.5 million battery packs.
Tesla plans to deploy a 24,000 KW (24 MW) solar array on the factory's roof.
Key Facts:
Factory Started: July 2014 (groundbreaking)
Announced: Sep 2014
Construction started: Jan 2015
Opening: 29 July 2016
Area: Floor area: 5,400,000 sq ft (500,000 m2); Land: 4.5 sq mi (12 km2; 2,900 acres);
Annual Capacity: 35-37 GWh+
Employee: 11,000 (as of Jan 2023)
Address: 1 Electric Ave, Sparks, NV 89437, United States (Google Maps)
Manufactures:

Model 3/Y electric motors (shipped to Fremont)
Battery cells for Model 3/Y and assembled into battery packs
Tesla Powerwall
Assembly of Tesla Semi
Future
Semi (full-volume production)
100GWh 4680 cells
Sources: Tesla, Tesla Blog, Wikipedia
Tesla Gigafactory #2: New York
Giga New York also called Giga 2, is located in Buffalo, New York, USA. It mainly manufactures Powerpack batteries, solar panels and solar roof tiles for Tesla's energy division.
Gigafactory New York covers an area of 1.2 million square feet and is one of the world's largest solar panel production facilities. It's leased by Tesla and is owned by the State of New York.
Tesla secured Gigafactory 2 through its acquisition of SolarCity in 2016. Originally a steel manufacturing site, the 88-acre property along the Buffalo River was transformed to produce solar panels and solar cells.
Giga-2 can produce 10,000 Superchargers per year.
Key Facts
Construction started: Sept 2014
Construction Completed: 2017
Began production of Solar cells: Aug 2017
Commercial production: Mar 2020
Area: 1.2 million square feet
Address: 1339 South Park Ave, Buffalo, NY 14220, United States
Produces:
Tesla Solar Roof
Tesla Superchargers
Data analysis for Autopilot
Tesla Gigafactory #3: Shanghai (China)
Giga Shanghai (Gigafactory 3) in China marked Tesla's pioneering move beyond the borders of the United States, establishing its first production facility in Asia.
This significant milestone underscores Tesla's commitment to global expansion and its dedication to serving the massive EV market.
By establishing Giga-3, Tesla secured a strong foothold in Asia, laying the foundation for its continued growth worldwide.
Giga China was constructed in a record 9.5 months, all set for production, and at 65% lower cost per unit of manufacturing capacity than the US.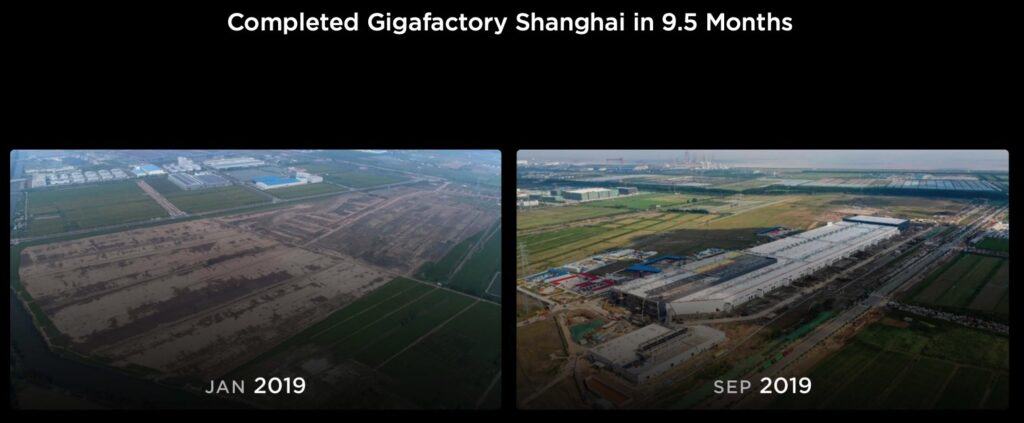 Quite impressive, isn't it?
Opened in 2019, this massive facility manufactures the Tesla Model 3 and Model Y to meet the growing demand for electric vehicles for the Chinese and surrounding regional markets with no Gigafactory.
It has already attained a high production volume in a very short period and is Tesla's main export hub.
Recently, Giga Shanghai announced the production of its two millionth EV, rolling out a million EVs in just 13 months.
Located in the Lingang industrial zone of Pudong district in Shanghai, Giga-3 spans 214 acres of land.
Because of this, Tesla production plant in China stands out among foreign automakers for its unique ownership arrangement. Tesla wholly owns the plant without a joint venture, a first-ever wholly foreign-owned automotive factory in China that got approval from the government.
While Tesla owns the factory itself, the land it is built upon is not owned by the company, which is a common practice in China. Tesla holds land use rights for an initial term of 50 years.
Here's a detailed tour of the Shanghai Gigafactory:
Key Facts:
Construction started: Dec 2018
Production Started: Oct 2019
First production vehicles: Dec 2019
Area: 0.86 km2 (0.33 sq mi; 210 acres)
Employees: 20,000 (June 2023)
Capacity: 750,000+ vehicles per year
What does it do?

Model 3, Model Y
Superchargers assembly
Future:
Shanghai Megafactory is expected to open in 2024 with a capacity to produce 10,000 Megapacks annually.
Sources: Wikipedia
Tesla Gigafactory #4: Berlin (Germany)
Gigafactory Berlin-Brandenburg, Germany (Giga 4) is Tesla's first manufacturing site in Europe and the second outside of the States.
Announced in Nov 2019 and officially opened in March 2022, Giga-4 is Tesla's most advanced, sustainable and efficient facility yet. It is situated in the municipality of Grünheide in the Brandenburg state of Germany.
It produces Model Y vehicles for the thriving European and Middle East EV markets, ensuring more efficient and timely delivery of Teslas to customers in this region.
As of March 2023, Giga Berlin produces 5000 units a week. At maximum capacity, it is expected to produce 500,000 vehicles per year.
Some parts of the Berlin Gigafactory are still under construction. When fully built, Giga Berlin will be the first location in Europe to manufacture cells in-house with electric vehicles.
It is expected to cover an area of 300 hectares and to be one of the most advanced factories in the world.
Did you know?
Giga Berlin produces Model Ys in two exclusive colours: Midnight Cherry Red and Quicksilver. Both these stunning hues are available only in Europe and the Middle East markets. Sorry, rest of the world!
Crafted in the advanced paint shop at Giga Berlin, these multi-coat paints add a captivating new dimension that gracefully transforms with curvature as you move around the car.
Tesla Giga Berlin Factory tour video:
Key Facts
Announced: 12 Nov 2019
Construction started: May 2020
Officially opened: 22 Mar 2022
Started production: 29 Apr 2022
Setup cost: €4 billion ($4.35 billion)
Area: 1.2 square miles (3 km2; 740 acres)
Address: Tesla Straße 1, 15537 Grünheide, Germany (Google Maps)
What does it do?
Future
at full capacity will produce batteries, battery packs, powertrains and seats for Tesla vehicles
Tesla Gigafactory #5: Texas (Austin)
Giga Texas (Giga Austin or Giga 5) is the newest addition to Tesla's family of Gigafactories and is the first Gigafactory that produces both cars and trucks. As you'd be familiar with how Tesla names its factories, this one is in Austin, Texas, USA.
Located along the Colorado River, Gigafactory Texas spans an impressive 2,500 acres and boasts over 10 million square feet of factory floor.
Giga Texas started producing Model Ys for the Eastern United States in 2022 and is the main factory planned for Cybertruck mass production.
As of Dec 2022, Giga Texas produces 3000 Model Y units weekly.
Key Facts
Announced and Construction started: July 2020
Initial trial production: Aug 2021
Initial deliveries: 7 Apr 2022
Area: 2500 acres (10 million sq ft factory floor)
What does it do?

Model Y production
4680 battery cells production
Future
Cybertruck (initial deliveries planned for 2023)
Sources: Tesla, Wikipedia
Tesla Gigafactory #6: Mexico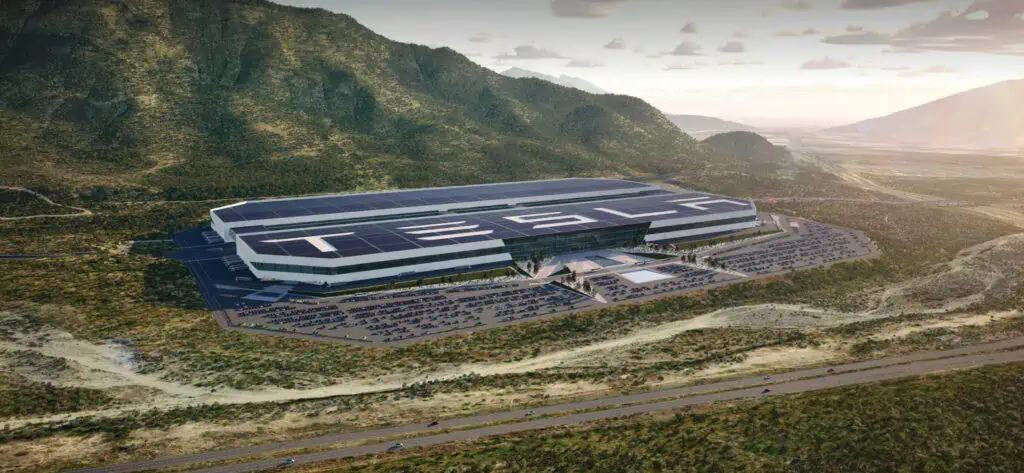 Tesla's next Gigafactory, Giga Mexico, is currently being built in Monterrey, Mexico, for Tesla's next-generation vehicle (rumoured to be called Model 2) and its upgrades.
As of August 2023, all necessary permits have been obtained, and preparations are underway to construct an access road from the highway. Construction of the factory is expected to commence shortly thereafter. The projected timeline for the completion of Giga Mexico is 12-15 months, with an estimated finish in the first quarter of 2025.
Key Facts
Announced: 28 Feb 2023
Planned Completion: Q1 2025
Sources: Wikipedia
Future Tesla Gigafactory Locations
As Tesla continues to innovate and expand, you can expect to see more Gigafactories.
Elon Musk has stated that the company plans to build 10 to 12 Gigafactories to meet its production goals.
In this section, let's explore the planned Gigafactories and their locations.
Gigafactory India
The mention of Tesla's plan to produce a $25,000 electric vehicle at Battery Day 2020 sparked speculation that this could be the first Tesla car to be introduced in India. With the Indian government's push for electric vehicles and the country's growing demand for affordable EVs, a $25,000 Tesla could be a game-changer in the Indian market. 
India levies colossal import duties on foreign vehicles and has shown keenness for Tesla to set up a factory to produce their EVs locally. However, Tesla has been demanding that the import duties be eased first for Tesla to bring its EVs via the import route without paying hefty duties.
Tesla established its offices in Pune city, Maharashtra. It is yet to be determined if this indicates the initiation of preparations for a potential Tesla car factory in India in the coming future.
UK
In 2021, there were reports that Tesla was in talks with the UK government about building a Gigafactory in Somerset (England) at a site called Gravity. However, there have been no recent updates on the status of a potential UK Gigafactory.
Canada
According to a filing by Tesla to the OIC, Ontario, there have been reports of Tesla lobbying the province to set up a Canadian Gigafactory. However, as of now, Tesla has not confirmed any plans to build a Gigafactory in Canada.
Tesla Gigafactories: Vehicle Production
As of Sep 2023, Tesla has five factories dedicated to vehicle production: Fremont (California), Giga Shanghai, Giga Nevada, Giga Berlin and Giga Texas.
Let's look at where each Tesla vehicle is produced:
Model S
Tesla Fremont Factory is the birthplace of the Tesla Model S. It has been the exclusive production site for every Model S sold and will continue to be so.
Model 3
Model 3 is Tesla's most popular vehicle, produced at the Tesla Factory in Fremont, California (USA) and Tesla Giga Shanghai, also known as Gigafactory 3.
Model X
Tesla's largest vehicle, the Model X, is produced exclusively at Tesla's Fremont factory in California.
Model Y
Model Y has been a game changer for Tesla and is now produced in four locations: Fremont Factory, Giga Nevada, Giga Shanghai and Giga Berlin. This makes Model Y the most widely produced Tesla vehicle.
Tesla Cybertruck
Tesla's more specialized vehicle, the Cybertruck, is produced at the Giga Texas facility in Austin.
Tesla Semi
Tesla's Semi is currently at the pilot production stage at Giga Nevada. There's a new factory that Tesla is building at Gigal Nevada that will support full-volume Semi production.
This is in addition to the already planned production for Semi trucks at the Giga Texas facility.
Tesla Energy Production and Storage
Tesla's Gigafactories are not just limited to vehicle production. They also produce various products for energy production and storage:
Energy production: solar panels, solar cells, solar roof tiles
Energy Storage: Powerwall, Megapack, Battery cells, Battery packs
Electric charging: Tesla Superchargers
Solar Panels and Solar Cells
Solar panels and solar cells are key components of Tesla's energy solutions. They manufacture solar cells and panels that can be installed on your home's roof or property. These installations help generate electricity to power your home and charge your Tesla electric vehicle.
Solar Roof Tiles
In addition to solar panels, Tesla also produces solar roof tiles. These tiles integrate seamlessly with your roof, providing an aesthetically pleasing option for harnessing solar energy. They not only generate clean energy but also help maintain the architectural integrity of your home.
The Solar roof is produced at the Tesla New York factory.
Energy Storage
Tesla factories manufacture products like Powerwall and Megapack. These energy storage systems store the electricity generated by your solar panels and roof tiles, allowing you to use the stored energy when the sun is not shining, during peak demand hours, or even during power outages.
Battery Packs
Tesla Fremont Factory and Giga Nevada are responsible for producing all of Tesla's battery packs. The energy storage products, such as Powerwall, are produced in Nevada.
The Fremont factory produces all the Model S and X battery packs, while Gigafactory Nevada produces all the Model 3 and Model Y battery packs.
Giga Berlin will soon start production of battery cells and packs for the Model Y vehicles it produces at its facility, taking some load off of the Nevada factory.
Battery Cells
2170 Cells
Tesla's 2170 cells are used in all its vehicles, from the Model S to the Model Y.
The 2170 battery cells used by Tesla are produced at Tesla's Gigafactory Nevada in partnership with Panasonic.
4680 Cells
Tesla is producing the 4680 battery cells at several locations.
The initial production of the 4680 cells started at a pilot production facility in Fremont and by Jan 2022 had already produced the one millionth 4680 cell.
Tesla has since been expanding the large-scale production of the 4680 cells to Giga Texas and Giga Berlin.
Announced at the Tesla Battery Day in 2020, 4680 cells are lighter, more powerful and have a greater range than the previous generation (2170 cells).
Curious about the manufacturing process of these batteries? Here's a video by Tesla:
Tesla Superchargers
Tesla originally produced the Supercharges at the original Tesla factory at Fremont.
After the launch of the v3 Superchargers in 2020, the production moved to the New York Gigafactory. And in Feb 2021, Tesla setup a Supercharger station factory at Giga Shanghai.
Today, Tesla Supercharger stations are produced mainly in two significant locations: Gigafactory New York in Buffalo and Gigafactory Shanghai in China.
Tesla Superchargers are a pivotal part of the company's unique electric vehicle ecosystem.
Since the installation of its first Supercharger in September 2012, Tesla has successfully expanded its network to a remarkable 50,000 Superchargers across the globe as of September 2023.
Wrapping Up
So there you have it, a complete list of all the Tesla Gigafactories currently in operation or planned for the future.
A Gigafactory significantly enhances Tesla's manufacturing capabilities by allowing for large-scale production of electric vehicles, batteries, and related components. These facilities are strategically located to decrease logistics costs, utilise local resources, and tap into regional markets.
By leveraging economies of scale and innovative production techniques, Tesla can produce more electric vehicles at a lower cost, benefiting the consumer and helping advance the transition to sustainable energy (look at the recent price drops!).
As the demand for electric vehicles continues to grow, you might see a lot more Gigafactories, or even updates to the existing ones, pop up in the near future.
It's an exciting time for Tesla and its customers!
Frequently Asked Questions