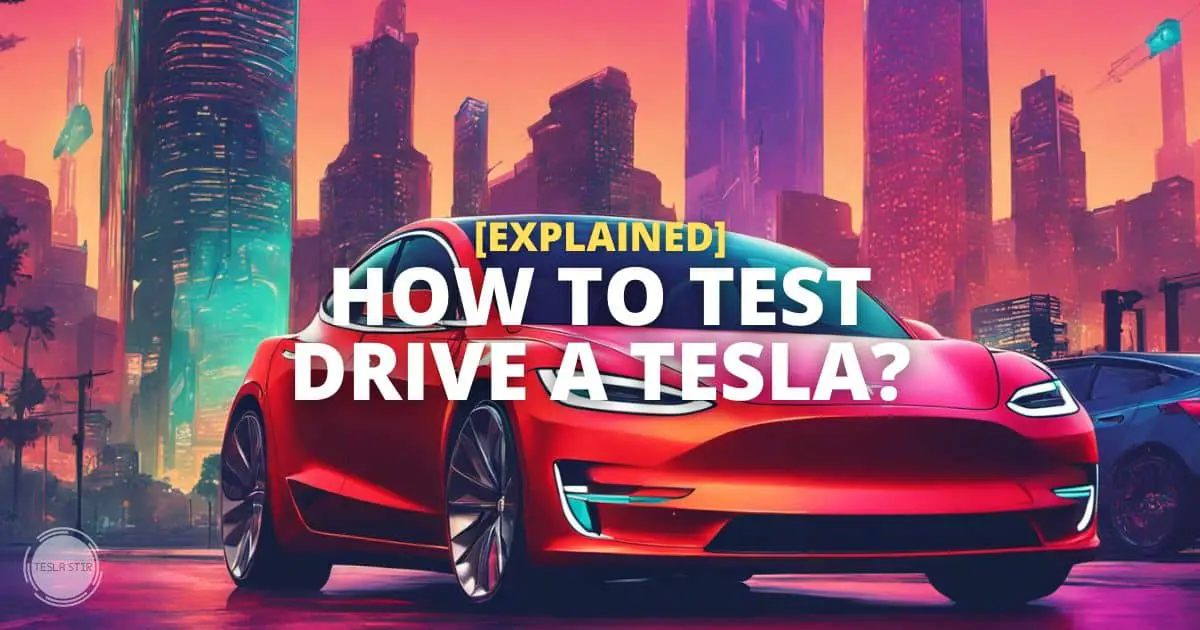 Ever wondered what it's like to drive a Tesla? Maybe you've heard about their impressive acceleration, whisper-quiet ride, or cutting-edge technology, and you're curious to experience it yourself.
Or perhaps you're considering buying a Tesla and want to test drive it before deciding.
Whatever your reason, there are several ways to get behind the wheel of a Tesla and see what all the fuss is about.
So, how to test drive a Tesla? One of the most common ways to test drive a Tesla is to schedule a test demo drive directly through Tesla's website. This allows you to experience the car first-hand at your local Tesla showroom.
Another option is to rent a Tesla for a day or more through a car rental service or a peer-to-peer rental service Turo, giving you more time to explore its features. If you have a friend who owns a Tesla, you may ask them if they would let you take it for a spin.
Let's explore each option in more detail.
Key Takeaways
Scheduling a test drive for a Tesla is simple and done through their website
Renting a Tesla from a car rental service can provide a longer experience
You can also rent from existing owners using Turo, a peer-to-peer car rental app
Borrowing a Tesla from a friend is another way to test drive one
How to Book a Tesla Test Drive?
Test driving is a fantastic way to get a feel for the electric car of your dreams. And as I mentioned, there are different ways to test drive a Tesla.
Let's look at all your options:
Option 1: Schedule a Test Drive With Tesla
If you're interested in getting behind the wheel of a Tesla, scheduling a demo drive is a great option. While some Tesla stores may accommodate walk-ins, scheduling an appointment in advance is highly recommended, as the availability of test drives can be limited.
To do this:
Visit the Tesla's demo drive website. Here, you will find a form to schedule an appointment.
Select the Tesla model you wish to test drive.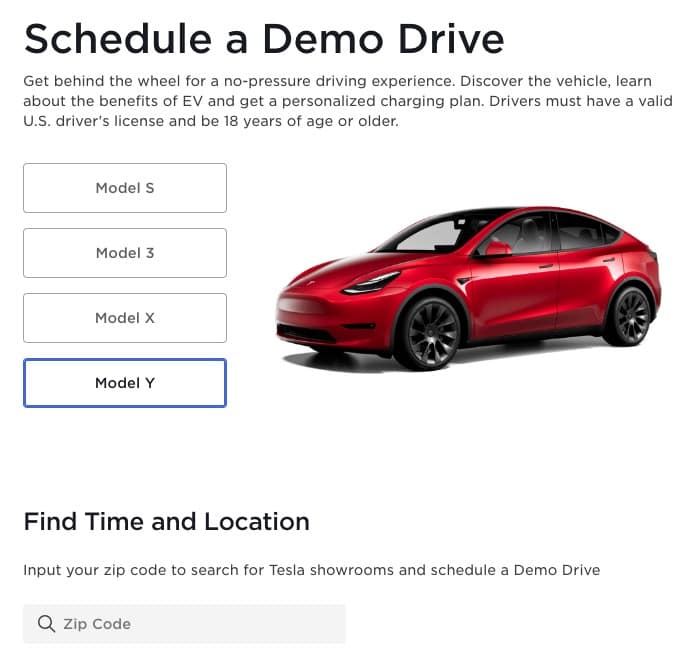 Fill in your personal information, which usually includes your name, email, phone number and Zip code.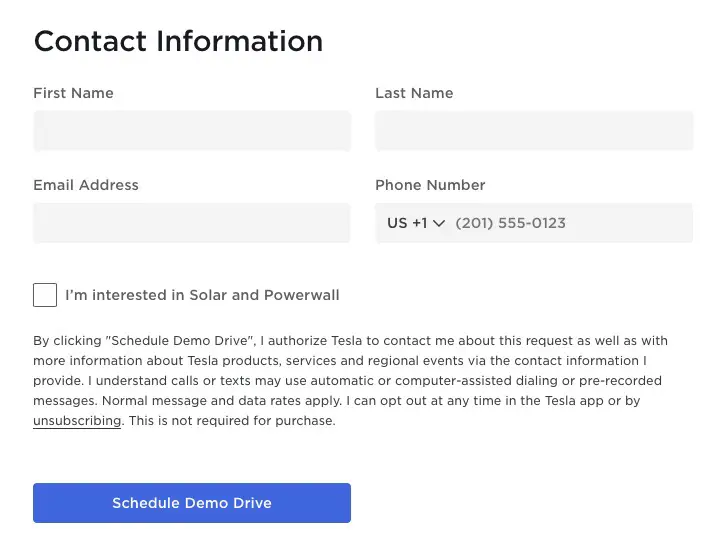 Tesla will use your Zip code location to find the closest Tesla showroom near you.
In the UK, that would be the Postcode.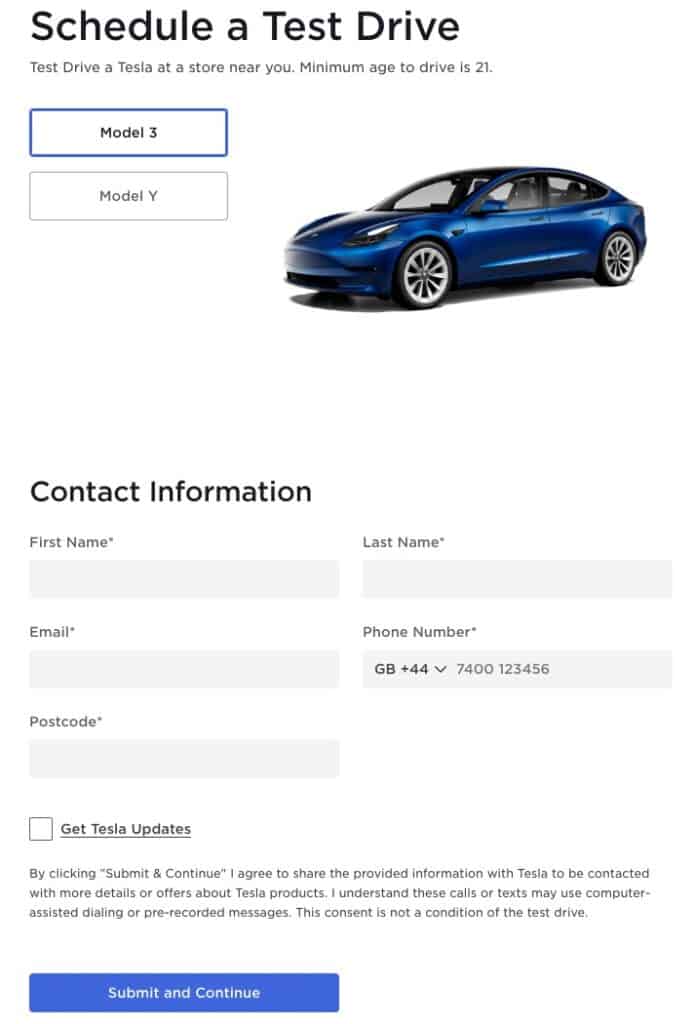 Once Tesla confirms your appointment, aim to arrive at least ten minutes before your scheduled drive. This ensures you have enough time to familiarise yourself with the Tesla features before starting your test drive. A Tesla Advisor will welcome you and guide you to the vehicle you'll be driving.
The minimum age to test drive in the UK is 21, while it's 18 years in the US.
You need a valid driver's license, as it's required before you participate in the test drive.
And lastly, enjoy your Tesla test drive experience!
Test drives typically last 30-45 minutes and offer an excellent opportunity to experience a Tesla vehicle's outstanding capabilities and performance.
Once you've completed your demo drive, return the Tesla vehicle and feel free to ask any questions you may have to your Tesla Advisor.
If you decide to purchase a Tesla, the advisor can help walk you through designing and ordering your own vehicle.
Don't forget to use a Tesla Referral code when purchasing to receive up to £/$1000 off.
Option 2: Tesla Test Drive Events
If you don't live near a showroom, Tesla often hosts test drive events that offer a fun and exciting way to experience a Tesla. You can demo drive a range of models on a closed course with a Tesla representative, ask questions, and connect with other Tesla enthusiasts.
Watch for upcoming Tesla events in your area, and sign up for a Tesla test drive near your location.
On the day, ensure you're well-prepared by bringing your driver's license and familiarising yourself with the vehicle. As you test drive, consider the different features and enjoy the unique electric driving experience.
Remember to follow safety protocols to maintain a smooth and enjoyable Tesla test drive experience.
Option 3: Rent A Tesla
With the first two options, you typically get around 30 minutes to test drive the Tesla. If you want to test drive the car for more than that, renting one is an excellent option for an extended experience of the car. It can provide a more in-depth experience and allow you to test the vehicle's capabilities further.
Renting a Tesla can be costly.
However, there are two options for an extended rental.
One is to rent a Tesla through a rental company. Major providers often have rental car agencies that offer Teslas as part of their fleet.
Another option is to rent a Tesla using the Turo app. Turo is a platform allowing private Tesla owners to list their vehicles for rent to make extra money.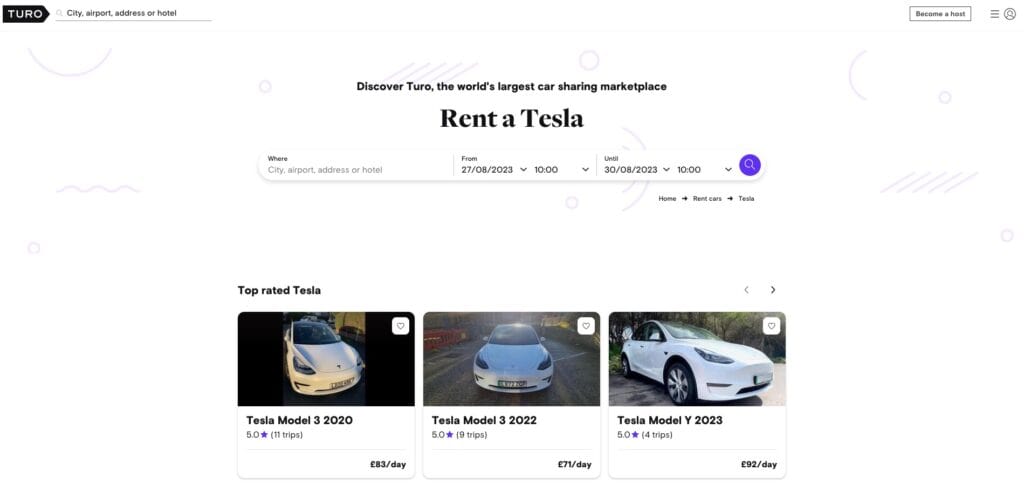 Whichever option you choose, renting a Tesla allows you to fully experience the vehicle for as long as you need, helping you make a well-informed decision.
Option 4: Drive Your Friend's Tesla
If you're keen on testing a Tesla and have a friend who owns one, why not ask them for a favour? With the growing number of Tesla car owners, it's becoming an increasingly popular option.
Before taking their car for a spin, ensure you've sorted insurance matters. It's crucial to be responsible and avoid potential liability issues while driving your friend's vehicle.
Driving your mate's Tesla can be an enjoyable and enlightening adventure. You'll get to experience the car's capabilities and performance first-hand, making it perfect if you're contemplating buying your own Tesla. So, explore this fantastic opportunity, all while spending time with a friend who shares your enthusiasm for electric vehicles.
Can You Test Drive a Tesla?
Yes, you can test-drive a Tesla! The company offers test drives for customers interested in experiencing their electric vehicles. To schedule a test drive, visit the Tesla website and complete the required information.
During your test drive, you'll get to experience the unique features and performance of a Tesla. This includes the instant torque, regenerative braking, and cutting-edge technology integrated into the car's system. Remember to ask any questions you might have and enjoy your Tesla test drive experience!
Can You Test Drive a Tesla without Buying?
Of course, you can take Tesla for a test drive without buying! There's no obligation to buy a car afterwards.
Tesla welcomes you to test drive their vehicles, even if you do not intend to buy one.
I wasn't even close to that decision stage when I went for my first Tesla test drive. It was a Model S we drove (Model 3 wasn't in the UK yet). There is no obligation to purchase a car, so don't worry.
And in most cases now post-pandemic, you'll be on your own when you go to test drive one.
Head over to the Tesla website to schedule your test drive appointment without any pressure of buying one.
Simply fill in your details, choose the desired model, and you're good to go.
How Much Does It Cost to Test Drive a Tesla?
Test driving a Tesla is free of charge. Simply schedule an appointment for the Tesla model of your choice (and availability in your region).
How Long Is a Tesla Test Drive?
When you schedule a test drive with Tesla, you can expect it to last around 30-45 minutes.
A Tesla representative will accompany you during your test drive, providing guidance and answering any questions. However, after the pandemic, Tesla started providing self-serve test drives. So, you'll know which one it is as you go through the booking process.
Plan to arrive about 10 minutes before your scheduled test drive, as this will give you time to complete the necessary paperwork and have your licence checked and added to the insurance.
How Old Do You Have to Be to Test Drive a Tesla?
You must be at least 18 to be eligible for a test drive in the USA. However, if you're in the UK or Europe, the minimum age is slightly higher, at 21 years.
However, I must mention that different countries might have varying age restrictions, so always double-check the requirements for your specific location.
You can check the requirements on the booking page in your country/region. If your browser automatically doesn't take you to your local Tesla website, you can switch to your region using the globe icon: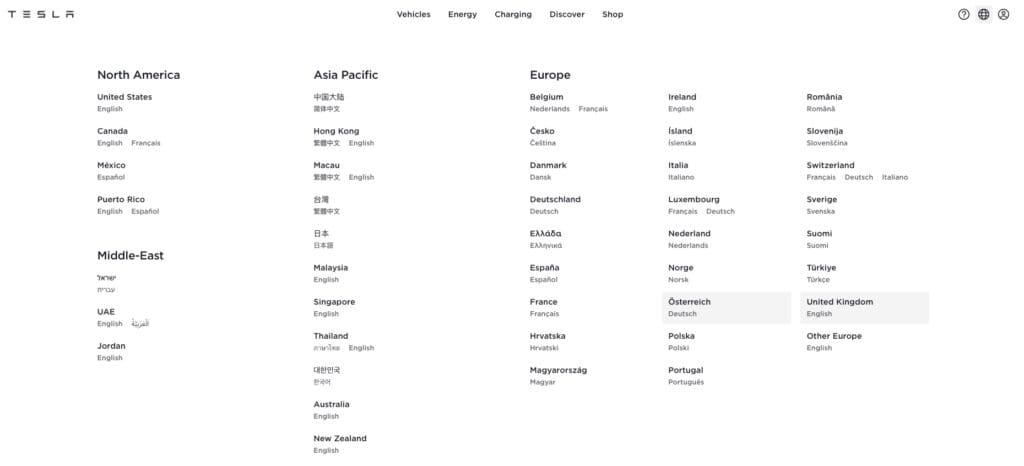 How to Test Drive a Tesla for a Week?
If you're eager to get an extended test drive in a Tesla for an entire week, you might consider renting one from a reputable car rental agency.
Luckily, well-known rental companies such as Hertz, Enterprise, and Avis offer Tesla vehicles. You can even use the p2p rental app Turo to rent Tesla cars.
Go to your favourite car rental website and search for Tesla models available at your chosen location. Once you've found a suitable Tesla, book it for your desired test drive period, a week or however long you want.
Remember that prices may vary depending on the rental company, location, and Tesla model. Don't forget to check each company's terms and conditions, including any mileage restrictions or additional fees.
Upon picking up your rented Tesla, take the time to familiarise yourself with the vehicle's features and functions. This will help you maximise your week-long test drive experience.
Wrapping Up: How to Test Drive a Tesla
There's no better way to determine if a Tesla is right for you than trying one yourself.
To go about test driving a Tesla, you have a few options to consider.
The simplest one is to book a test drive with Tesla.
Whether you take a quick spin during a scheduled appointment, commit to a week-long rental, or borrow a Tesla from a friend, each option offers you the opportunity to a first-hand experience.
So, go ahead and book your test drive today! And don't forget to ask any questions you may have during the process.
Happy driving!
Frequently Asked Questions
Does Tesla give test drives?
Yes, Tesla does offer test drives.
What is the process for scheduling a Tesla test drive?
To schedule a Tesla test drive, visit the Tesla test drive page. Select the model you want to try – Model S, 3, X or Y. Enter your contact information, and a Tesla Advisor will contact you to confirm your booking.
How long is a typical Tesla test drive?
A typical Tesla test drive usually lasts around 30 to 45 minutes. This allows sufficient time for you to experience the car's performance and features while asking any questions.
Does Tesla do overnight test drives?
Tesla does not provide overnight test drives. However, you can explore rental options from car rental companies or peer-to-peer platforms like Turo, allowing you to rent a Tesla for a longer duration, including overnight.
Can I Test drive a Tesla for a day?
Test-driving a Tesla for a full day through Tesla is unlikely. However, you can consider renting a Tesla through car rental companies. Alternatively, check out platforms like the Turo app, which allows Tesla owners to rent out their vehicles for a day or longer.
What is the difference between a Tesla demo drive and test drive?
There is no difference between a demo drive and a test drive. Tesla calls it a demo drive in the US and Canada while in most of Europe and the UK, they call it a test drive. Both offer an opportunity for you to get behind the wheel and experience the car for yourself.
Can anyone participate in a Tesla test drive?
Anyone can participate in a Tesla test drive if they meet the minimum age requirement and hold a valid driver's licence. However, this may vary by region, so it's best to confirm with Tesla in your area.
Do I need to commit to buying a Tesla to test drive?
No, you don't need to commit to buying a Tesla to take a test drive. Test drives are designed to help you make an informed decision by experiencing the vehicle firsthand, with no obligation to purchase before or after.
How far in advance do I need to book a Tesla test drive?
It's recommended to book a Tesla test drive a few days in advance, as availability may vary depending on the location and the specific model you are interested in. However, some locations may accommodate walk-ins, but it is best to make an appointment to secure your slot.
How to cancel a Tesla test drive?
If you need to cancel your Tesla test drive appointment, contact the Tesla dealership via phone or email. Provide your appointment details, and they will assist with cancelling or rescheduling your test drive.
Can I test drive a Tesla more than once?
It is generally acceptable to test drive a Tesla more than once, especially if you want to experience different models or are still undecided about your purchase.