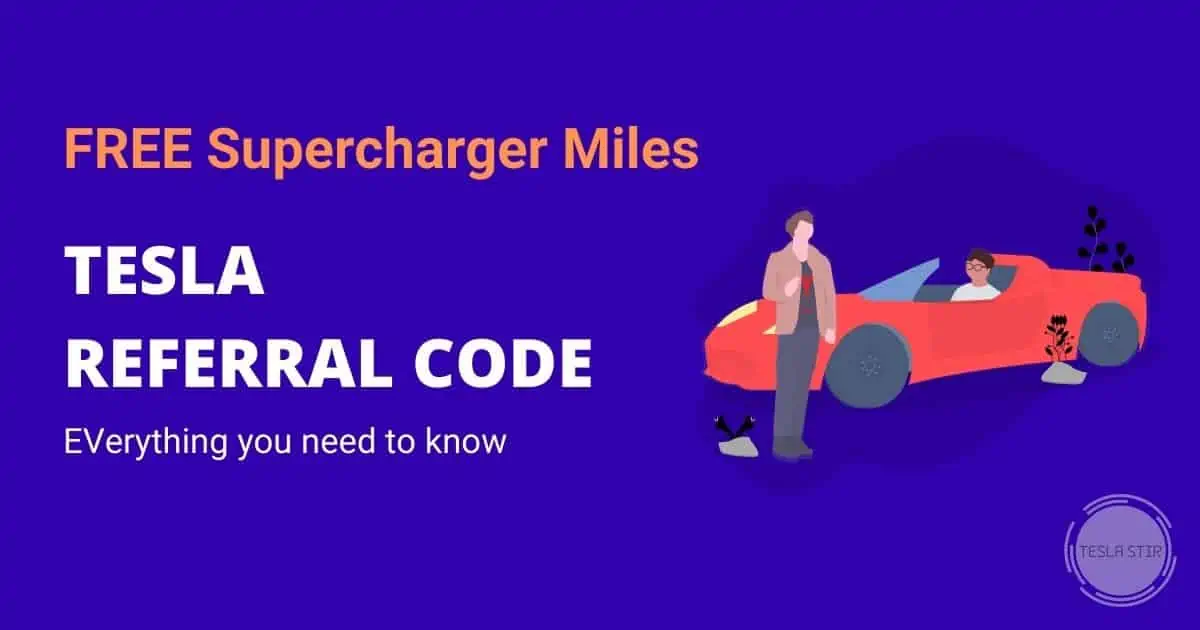 If you plan to purchase or lease a new Tesla Model 3, S, X or Y, congratulations on your decision, as they are great electric cars!
If you've decided which model you're getting, placing your order using a valid Tesla referral code available under the Tesla Referral Program is important.
Using the Tesla referral link, you get free Loot Box Credits that you can then redeem for free Supercharger miles and other rewards in the Tesla Referral Shop (in the app).
Follow this link (or the button below) to get the Loot Box credits to your purchase automatically.
(The available offers take a while to fetch, so you might need to hold on whilst the Tesla website loads)
In the latest program terms, Tesla offers 1000 Loot Box credits when you place an order for Model S/3/S or Y in Europe (restricted to Model 3 and Y in the UK).
Once you click through using the referral link, you'll be presented with the available offers on the vehicles in your region.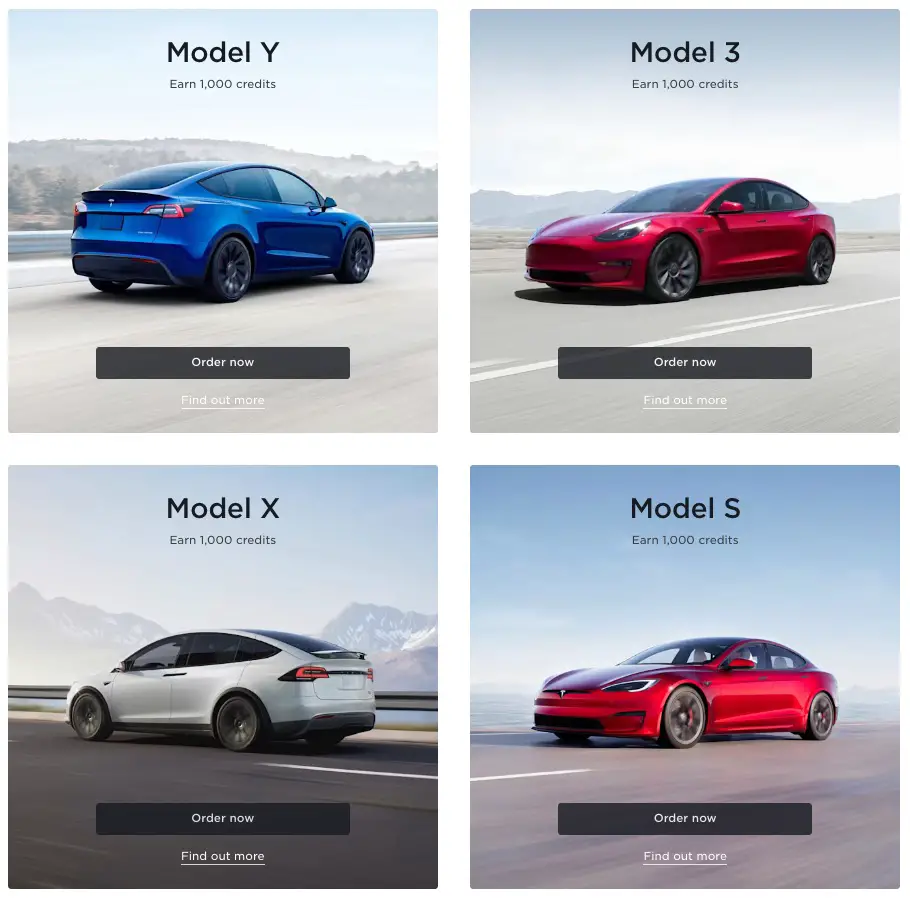 The referral offers have varied in the past, and the last referral reward used to offer free 1000 miles (or 1500 kilometres).
You can use the same invite code to get 9000 credits on Solar Panels and Solar Roof purchases in a country where Tesla is accepting orders.
If you want to know more about the ongoing Tesla referral program, read on as I explain it.
Update #1 (Sep 2021): Unfortunately, as of 18 Sep 2021, Tesla stopped the Rewards program on all of their cars. Only Solar Roof and Solar Panels are eligible for the Referral Program. Check the latest information here.
Update #2 (Nov 2022): The Tesla referral program is expected to make a comeback, this time as Referral Credits that you can redeem for goodies from the Tesla shop. I will update this post as soon as I have more information.
Update #3 (27 Mar 2023): The Tesla referral program is back (UK and Europe); you get Loot Box credits when you use a friend's referral link to place your order. If you're looking for one, you can use my referral link and we both get credits that can be redeemed for Tesla rewards. Plus, if you take delivery before 31 Mar 2023, you get 5000 extra credits as part of Tesla's end-of-quarter push. After 31 Mar, you'll earn 1000 credits.
Note: I am in the process of updating the old sections of this post so you might find some references to the old referral credits.
What is a Tesla Referral Code?
Tesla referral discount code offers both the buyer and referrer free loot box credits to access the Tesla Supercharging network or other Tesla goodies. The ongoing offer gives you 1000 Loot Box credits.
To claim your free credits, you'll need to use the Tesla referral code to place your order online.
You can use the code "amandeep28662" if you place the order on the phone or in the store.
If you are in the US, the Loot Box credits are not available on car purchases yet. However, you can use the same referral link to buy Tesla solar roof or solar panels that will earn you 9000 credits.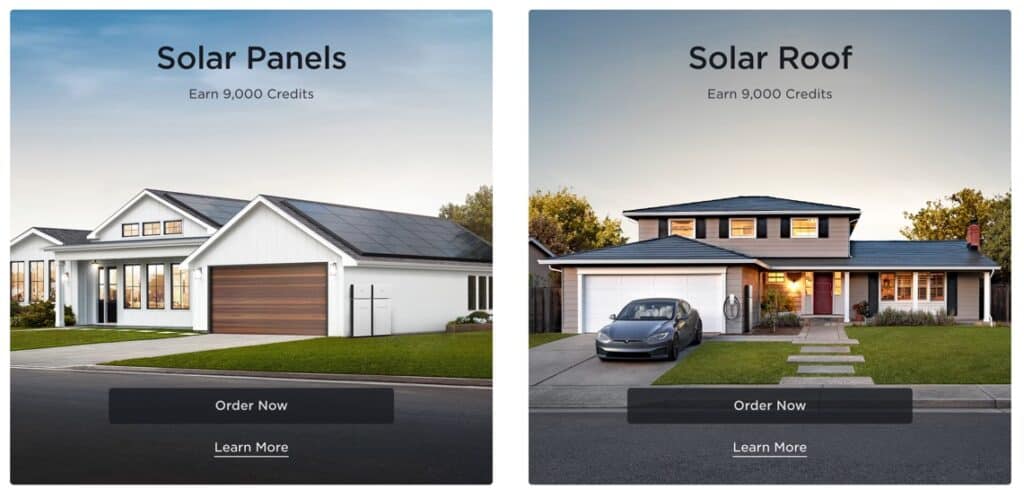 As part of the last referral program, the credit used to be $100 toward solar purchases.
Tesla Referral Program: How Does It Work?
What is the Tesla referral program, and what benefits does it offer?
If you've been following Tesla and Elon Musk (facts), you'd already know by now that Tesla – unlike conventional car manufacturers – doesn't spend anything on marketing.
Tesla does things a bit differently – marketing and advertising are no exception.
Other automakers rely on conventional ways of advertising spending millions on online and print media.
Tesla relies on customer word-of-mouth promotion to sell their cars by issuing unique referral codes to its existing customers that earns them some loyalty (loot box) credits in return for referring friends.
What Does a Tesla Referral Code Do?
With a Tesla referral code, any Tesla vehicle owner can share a unique invite link with prospective Tesla buyers.
If you purchase or lease a Tesla Model 3, Model S, Model X or Model Y using the unique referral link, the referrer and the buyer get rewarded with free Loot Box credits that can be exchanged for Tesla freebies or Supercharger credits.
That's what this whole Tesla Referral program is – organic word-of-mouth marketing.
Look at this post you're reading now:
Tesla didn't pay me to write this post – they didn't even ask me to. Instead, they gave me an invite code that I can give to potential buyers, who can get Loot Box credits by using my link.
What's in it for me?
I'd get some credits in my Tesla loot box as well.
And, a lot of happiness in doing my bit in helping your transition to sustainable clean energy.
What does Tesla get?
A sale. A new customer.
It's a win-win for everyone. Although, let's agree Tesla would make the most money of the three parties involved. They sell a car! 😛
You get the point.
Buying through my referral link doesn't cost you anything extra BUT buying without an invite code, you will lose those free miles. So use mine or not. But make sure to use one!
Here's the link again: https://ts.la/amandeep28662
If you order over the phone or in a Tesla store, use the below invite code.
Tesla referral code: amandeep28662
How to Use Tesla Referral Code Link?
Step #1. Use this link to go to the Tesla website. The order process is completely online.
Step #2. Pick the Model you want to buy and click on the "Order now" button. You can also benefit from the referral program for orders from "Existing Inventory."
Step #3. You should see the below message on the next screen confirming the free credits have been applied. You can close this pop-up and continue with your order.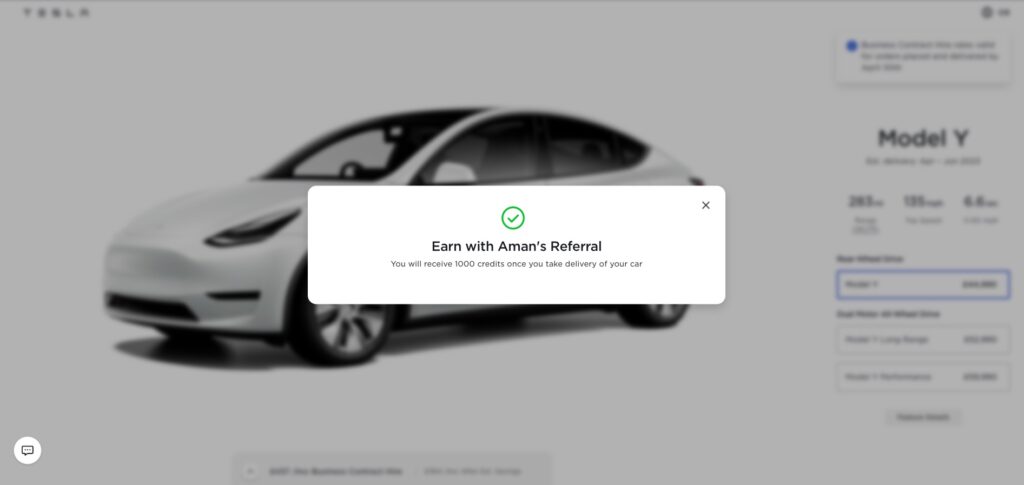 Step #4. Design your Tesla as you like and pay the deposit to place your order.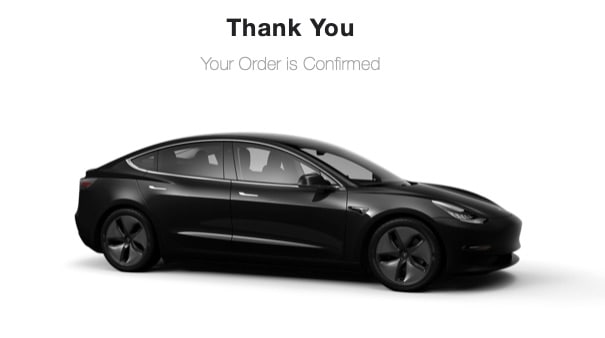 Congratulations! You've just placed your Tesla order. 🎉
Where to Enter Tesla Referral Code on the Website?
You don't need to add any referral code explicitly – it's already embedded in the referral link that I gave you. Once you see the above message, you can continue with your purchase as normal. The referral credits are applied automatically.
Leasing your car?
Even if you are ordering via a corporate scheme or as a lease, you should still be able to benefit from the referral programme and receive 1,000 free credits.
Can You Add Tesla Referral Code After the Order?
As per the guidelines given on the Tesla Referral program, Tesla mentions the code cannot be added after placing the order, but that doesn't mean you shouldn't try.
However, people have reported success with Tesla adding the referral code after ordering. 😇
If you already ordered the Tesla and forgot to use the Tesla referral code (or didn't know anyone who could give you their Tesla referral link), you could still try your luck given you haven't taken delivery already.
Try getting in touch with Tesla Customer Service and providing them with the referral code over the phone or via email to get your free credits applied.
You can use my referral code: "amandeep28662" 🎉
How to Get Your Own Tesla Referral Code?
Once you own a Tesla vehicle or have placed an order, you're eligible for the Tesla referral program and can start referring new Tesla sales for their cars and solar energy.
You can get your unique invite code from the Tesla mobile app:
Download the Tesla app and log in with your Tesla account.
Look for the small "treasure chest" icon in the top right corner – Tesla calls it the Loot Box.
From here, you can share your referral link using email, messages, social media etc. You can even copy your invite link and share it using your preferred method.
What is a Tesla Supercharger?
Tesla supercharger is the fastest and the most convenient way to charge your car on a road trip. They provide high-speed, high-power DC (Direct Current) charging while on the move.
Located along major motorways services in the UK, the Tesla supercharger can charge most Teslas from 0-80% in about 25 minutes. These charging times keep improving with time – the latest V3 superchargers can achieve charging speeds of 1000 mi/hr.
The charging speed though depends on several factors: what Tesla model you own, the maximum current available at the Supercharger itself and if any other vehicles are charging at the same time (in case you're at a v2 Supercharger).
The charging speed drops as your battery reaches close to 100% to maintain battery health, so it's always better to charge to only 80% or 90% to minimize charging times.
If you are taking a long trip, simply put in your destination in the built-in Tesla navigation and it will plot your trip through ideal supercharging locations where the system detects you'll need a top-up.
We took a 600-mile trip to the Lake District earlier this year and charged at Supercharger locations for free.
I'll be honest, though! Range anxiety is a thing, especially in the early days when you switch from a fossil-burning car to an all-electric one.
It takes a bit of getting used to how it all works, your car, the efficiency your EV can deliver and the whole Tesla system. As days and miles pass by, you'll start loving the whole experience. I don't have that much range anxiety anymore!
Related: Tips to increase Tesla range
As of Jan 2023, there are 42419 superchargers at 4678 locations worldwide (source: Tesla Q4 2022 Update).
There are 1000+ superchargers in the UK at over 100 locations. There are still a few black spots that are yet to be filled.
You are free to use other rapid chargers like Ionity but using a Tesla supercharger adds to the wholesome Tesla experience.
How much does Tesla Supercharging Cost?
The cost of using the Tesla supercharger network in the UK is £0.40-0.50 per kWh depending on the location you're charging at.
Tesla charges for using superchargers using two methods – per kWh or minute. In the UK (and Europe), you are billed per kWh (kilowatt-hour) which is a better method.
Wrapping Up
If you found this post useful and have decided to place an order, thank you for using my Tesla Referral Code.
Let me know if you need any help in placing the order or if you have any queries.
Over the course of close to the last four-ish years, I have had the Tesla Model S and X for a few months (loan cars) and my own Tesla Model 3, so can assist you with any queries you have.
If you know a friend, a family member or anyone you know who owns a Tesla and played a role in influencing you to buy a Tesla, do make sure to reach out to them asking for their referral code.
If you are an existing owner, share it with your friends planning to transition to clean energy to get free loot box credits for both of you.
Need a Valid Referral Code for Tesla?
If you don't know any Tesla owners and are looking for a referral link to get the free Loot Box credits bonus, don't worry!
Feel free to use mine so we can both benefit from the referral rewards (with the purchase or lease of your Tesla vehicle).
Current Active Tesla Referral Link: amandeep28662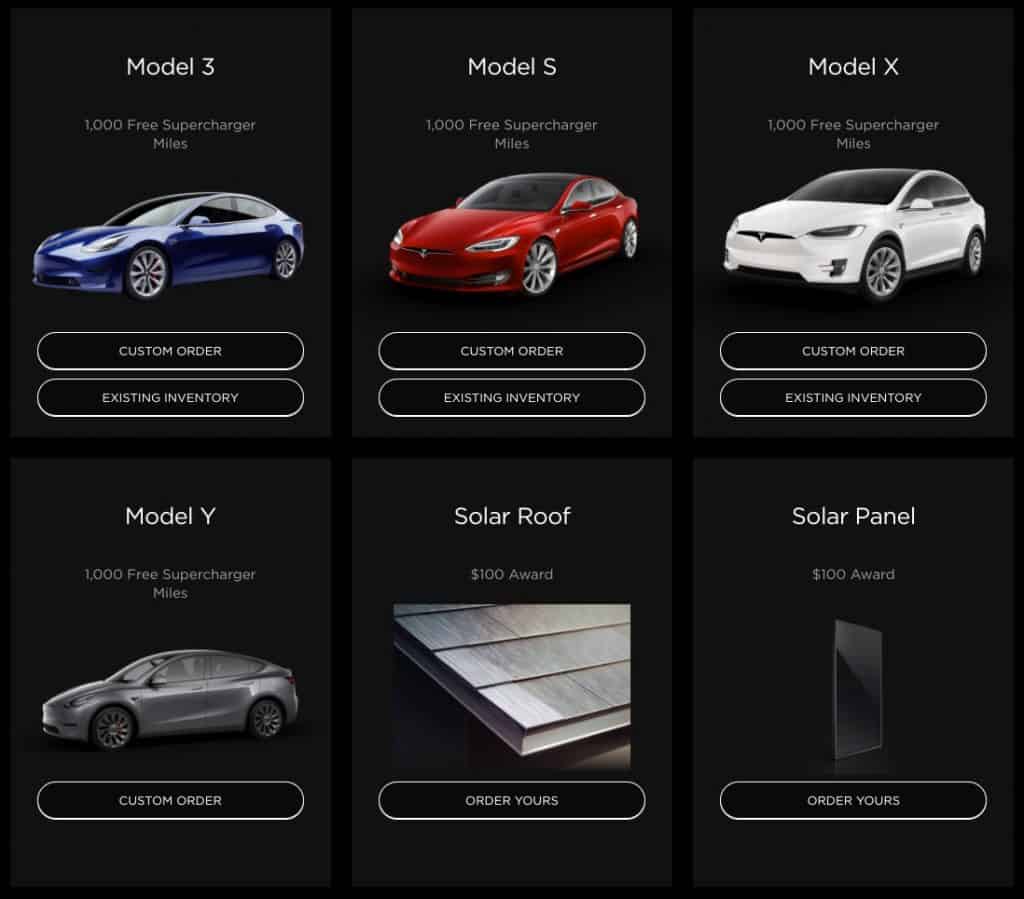 Which Tesla model did you decide on – Model 3, Model S, Model X or Model Y?
Which variant did you go for – Standard range, Long Range or Performance?
And why?
Drop me a line in the comments section below.
All the best!
Frequently Asked Questions