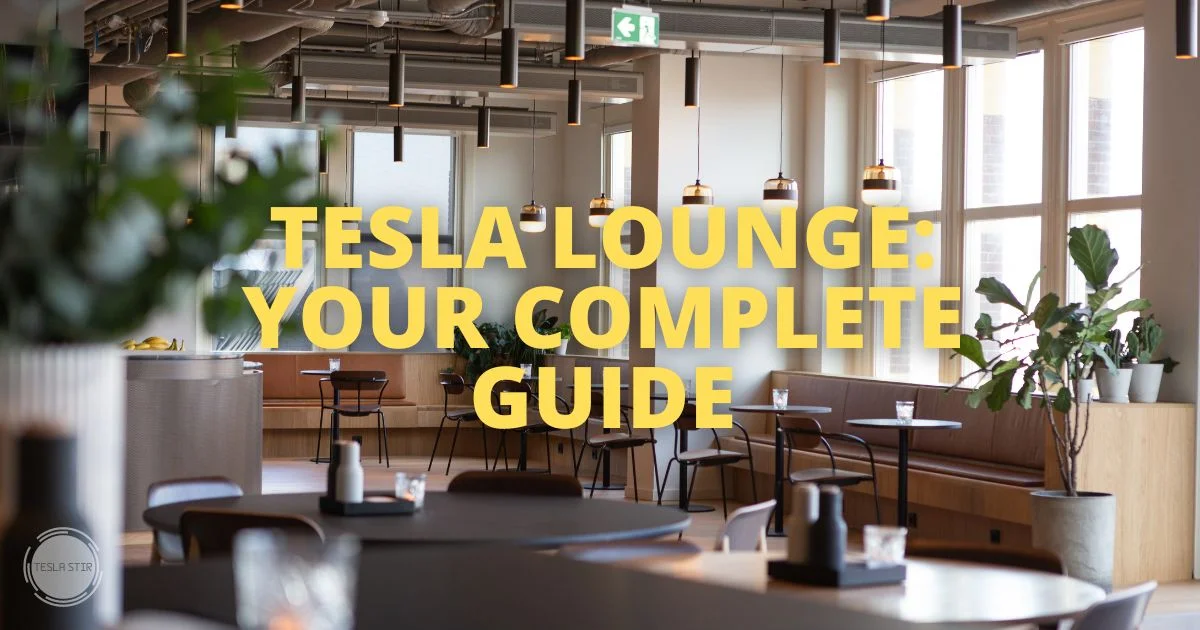 Tesla lounges offer various facilities to enhance the experience of owning a Tesla. These include relaxation areas with comfortable seating, free Wi-Fi access, food and drinks, charging facilities for your phones and laptops, and a play area for kids.
Available at only certain Supercharger stations, they also foster connections among the Tesla community by facilitating the exchange of enthusiasm for electric vehicles.
In this guide, you'll learn more about amenities, lounge locations, and access guidelines.
The facilities offered in each lounge may differ. I have written this guide based on my first experience visiting a Tesla lounge at Dietikon, Switzerland, a fairly large site with 24 SuC points.
In Summary
Tesla customer lounges are exclusive spaces located at select Superchargers.
They provide a variety of amenities, including comfortable seating, refreshments, and Wi-Fi access.
Access to lounges requires a specific code provided in the vehicle's navigation system or the mobile app.
Tesla Lounges: Overview
Tesla Lounges are designed to provide comfort and convenience during charging stops. They serve as dedicated spaces to relax, grab a beverage, and access other amenities while your vehicle gobbles up the energy to get back on the road.
As I mentioned at the start, the facilities available vary by location, but the one I visited included comfortable seating areas, free WiFi, a play area for kids, and snacks and drinks (usually paid via vending machines; complimentary at a few locations), as well as charging for your phones and laptops with 24×7 access.
The spot I visited also included a vintage Nintendo gaming console and a TV. As you enter the building, you walk through a well-organised outdoor space with landscaping and a ping-pong table.
The lounges provide a relaxing space and include essential conveniences like restrooms, coffee bars, and free Wi-Fi. Some lounges may even have a more luxurious setup, providing additional convenience for Tesla owners travelling anytime.
Tesla Lounges are a valuable addition to the Supercharger network, making long-distance travel in your Tesla even more pleasant.
By providing a comfortable space to rest and recharge during charging stops, these lounges are a great way to enhance your overall driving experience.
It's worth noting that Tesla has opened these lounges only at certain Supercharger sites. They tend to be located at larger and more frequently visited charging locations. You can find information about specific lounges and their hours of operation in the Tesla app or on the Tesla website.
In addition to lounges, Tesla has experimented with cube lounge installations, such as the one at a German Supercharging station in partnership with bk World. These cube lounges are called Qubes and have automated vending machines for coffee, food, and more.
Tesla Lounge Locations
Currently, Tesla Lounges can be found only at select Supercharger stations worldwide, usually near major highways and popular travel routes. They are currently more common on the west coast of the United States.
I couldn't find a simple way from Tesla that lists all the Supercharger sites with a visitor lounge. Adding this information to the Tesla Nav system or the app will be useful. Remember that access codes are often required for entry to the lounge, so check your in-car display (or the Tesla app) for the code before visiting.
In my experience, a site that usually shows a code against it on the SuC map is for a SuC site with lounge access. However, the code could also sometimes be for the entry barrier to access the charging site itself.
So until Tesla opens up a feature to make this information available for drivers in a new software update, you'll need to contact customer care or look at forums listing such customer lounge sites.
Tesla Lounges: Amenities Offered
Comfortable Seating and Resting Areas
You'll find a relaxing and comfortable environment at Tesla Lounge while your vehicle charges. The customer lounges have minimalist yet stylish interiors. You'll find spacious and supportive seating arrangements that allow you to unwind during your brief pit stop.
The lounge area typically offers desk cubicles, lounge seats, and Wi-Fi, so you can catch up on work, browse the internet, or unwind during your break. There are also open areas where you can converse with fellow Tesla owners.
Whether travelling alone or with family, Tesla lounges ensure an enjoyable break during your electric vehicle road trip.
Restrooms
Clean, well-maintained restrooms are also available at the Tesla visitor lounge, providing a convenient place to freshen up during your charging stop. Whether you need to use the facilities or wash your hands, these restrooms ensure you can continue your journey feeling refreshed.
Entertainment and Gaming
You can expect a well-rounded entertainment experience that caters to various interests. Whether waiting for your vehicle to charge or simply seeking a comfortable space to unwind, these lounges offer a range of enjoyable amenities.
For entertainment, Tesla Lounge offers TVs and gaming consoles so you can pass the time in a fun and engaging way.
Tesla Merchandise and Products
In addition to charging your electric car, Tesla Lounge offers various pieces of Tesla merchandise for purchase. From t-shirts and hats to jackets and unique Tesla accessories, you'll find a selection of items to remember your visit or perhaps choose as a gift for a fellow Tesla enthusiast.
Apparel and Clothing: Tesla offers clothing collections for men, women, and children. This can include T-shirts, hats, jackets, and other items with the Tesla logo and designs.
Accessories and Gadgets: Tesla doesn't limit itself to apparel; it also provides an assortment of gadgets and accessories that you might find practical and fun. For instance, Tesla-branded wireless chargers and Supercharger phone chargers can help to keep your devices powered up on the go.
Lifestyle and Collectibles: Tesla's merchandise extends further into lifestyle and collectable items, like limited-edition sipping glasses, belt buckles and mini (diecast) Teslas offering fans more unique ways to embrace the Tesla lifestyle.
Food and Beverage Options
As you visit a Tesla lounge, you'll find various food and beverage options available to make your charging experience more enjoyable. 
The Tesla location I visited also had various vending machines stocked with food, snacks, cold drinks, and even a selection of hot beverages, ensuring you're not left hungry or thirsty while waiting for your Tesla to charge.
Some Tesla lounges also offer Tesla-themed coffee options like the Ludicrous Mode, a double espresso shot, or Autopilot, the barista's choice. This lets you enjoy a personalized touch while you take a break at the lounge (source: CNBC).
Where is the Tesla Lounge Access Code?
There are two simple ways to access the Tesla lounge code: in-car navigation on your Tesla screen or the mobile app. Simply, tap on the Supercharger icon to bring up the information card. The access code is inside!
An access code ensures that the lounges remain exclusive to Tesla customers, creating a private and enjoyable environment during your charging stop.
Let's look at both ways in detail.
In-car Navigation App
The best way to locate the Tesla Lounge access code is through your car's in-built navigation app. The access code is available on the information card for that specific location, and you can use this to unlock the door to the lounge. When you arrive at your destination (SuC with lounge access), the information card comes up automatically from where you can see the unique code.
If you drive a non-Tesla vehicle, you can only view the access code from the Tesla app. Keep reading.
Tesla Mobile App
If you forgot to check the code on the in-car navigation, don't worry! You don't need to go back to the car. Just open your Tesla Mobile App and go to Location. Tap on the SuC location you are at, and you'll be able to view the lounge access code.
Please note that this code is updated occasionally, so it cannot be shared over the Internet for unauthorised access. So if you frequently visit the same location, take the latest code from the Tesla app.
Are Tesla Lounges Exclusive to Tesla Owners?
Tesla lounges can be accessed by both Tesla and non-Tesla owners at Supercharger sites now open to all EVs. However, this changed recently when Tesla opened up the Supercharger access to non-Teslas at selected European and US sites. Until then, Tesla lounges were designed specifically with exclusive access for Tesla owners. For locations that are not open to non-Teslas yet, Tesla lounges are still exclusive to owners of Tesla cars.
These lounges provide a comfortable space to relax and enjoy amenities while your electric vehicle charges at a Supercharger. As you'd have figured by now, access to these lounges typically requires an access code, which can be found in your Tesla's navigation system. You can access the code from the Tesla app if you're a non-Tesla owner.
Is There a Fee to Use Tesla Lounges?
No, Tesla lounges are free for customers using the automaker's rapid charging network. There's no additional fee to use these lounges; they are a complimentary amenity provided by Tesla for its customers.
To access a Tesla lounge, tap the Supercharger icon on your car's navigation at the Supercharger location.  
In the Tesla lounges, you can expect comfortable seating, clean restrooms, WiFi, play areas for children, and refreshments such as water, coffee, tea, and snacks. These lounges enhance your overall charging experience, allowing you to unwind and recharge your car and yourself during long road trips.
Tesla Lounges: Opening Hours
Teesla lounges are typically open 24/7, but the operating hours may vary depending on the location. Generally, the lounges are open during the same hours as the Supercharging location, which is usually open 24 hours a day, 7 days a week.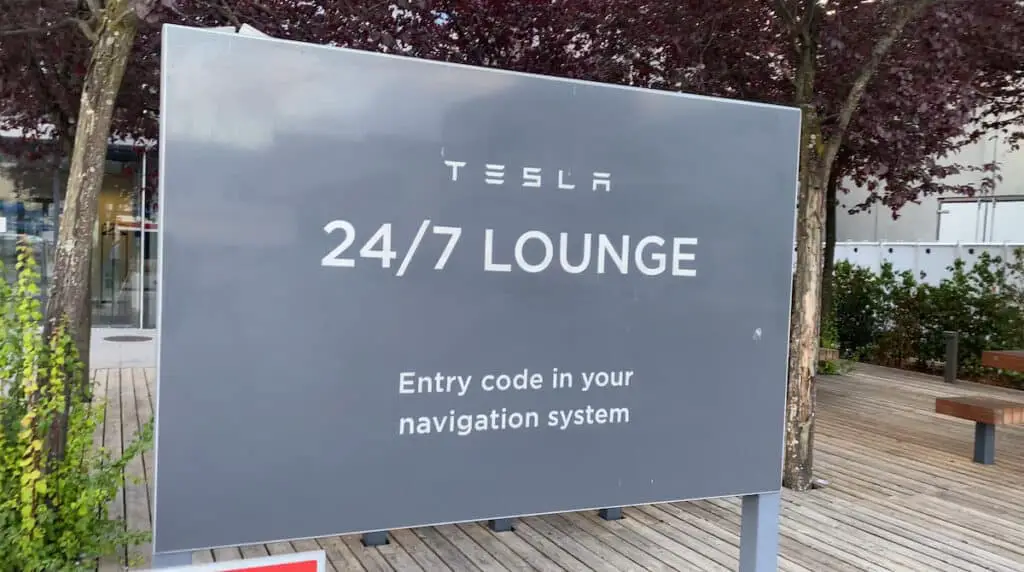 I couldn't find the information about opening hours (or whether a specific Supercharger has a lounge) on the Tesla website. Having this information in the navigation map itself will be useful – maybe a future software update will add this information.
For now, if you're unsure whether a particular Supercharger location has a lounge or want to enquire about the opening times, you can contact Tesla customer service for more information.
Wrapping Up
Tesla Lounges offer a comfortable space to recharge your vehicle and yourself, embracing a social atmosphere and making meeting fellow Tesla owners and travellers easy.
You can join multiplayer games, exchange stories, and create lasting connections, all within the comfort of these well-designed spaces. These amenities will make your experience enjoyable, offering a perfect combination of relaxation and excitement that complements your EV journey.
I hope this guide has given you a comprehensive understanding of what Tesla Lounges offer and how they work to provide a unique, community-centric experience for their users.
Whether you're a new Tesla owner looking for a place to spend some downtime while your car charges, or an EV driver wanting to immerse yourself in a like-minded community, the Tesla Lounges are worth a visit.
As Tesla continues to innovate, we can expect more impressive features and services in these lounges. Exciting times lie ahead in the automotive world, and Tesla is truly leading the way. Safe travels!
Frequently Asked Questions