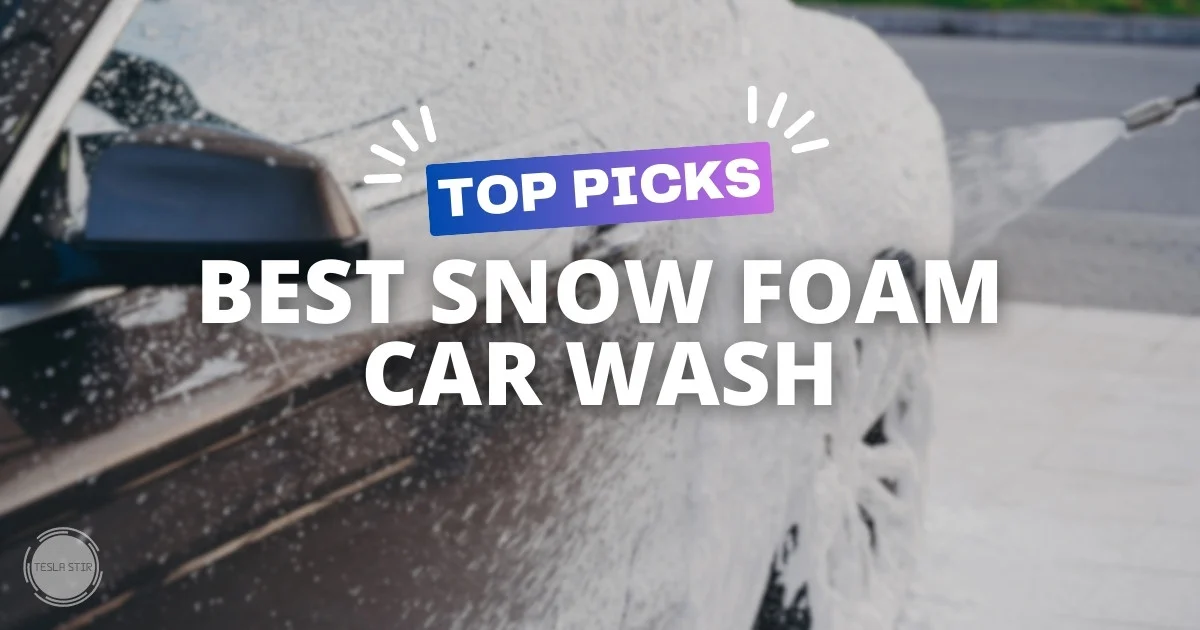 Looking for the best snow foam car wash? This is your ultimate buying guide with our top recommendations. Keep reading.
Keeping your car clean can be a time-consuming and difficult task.
You want to achieve that perfect showroom shine but without the hassle of scrubbing away dirt and grime with harsh chemicals. Plus, you don't want to damage your car's paintwork or spend too much effort doing it.
That's where high-quality snow foam comes in!
When choosing a snow foam, it's crucial to consider the formula's effectiveness, compatibility with your pressure washer, and whether it is safe for your car's paintwork.
Snow foam is an essential part of my Tesla car wash routine as it effectively lifts dirt and grime off without scratching the paintwork.
Having reviewed and analysed several car snow foam products available on the market over the years, we have compiled a list of the best choices, making it easier for you to achieve a thorough and hassle-free car wash experience.
I have done all the research for you! This thorough buying guide will help you find the best snow foam for your vehicle in 2023 so that you can easily maintain a spotless car with minimal effort – while also protecting its surface and being kind to the planet.
Let's start off with a quick look at our top recommendations.
Best Snow Foam for Cars (Overall)
Here is a list of the top snow foam products for your car in 2023.
Autoglym Polar Blast
Pro-Kleen Snow Foam
Gtechniq Auto W4 Snow Foam
Best Snow Foam for Ceramic Coated Cars
When choosing the best snow foam for your ceramic-coated car, you should consider a product that won't damage the coating while providing excellent cleaning results. Here are three top snow foam recommendations specifically designed for ceramic-coated cars:
Autoglym Polar Blast
Pro-Kleen Snow Foam
Meguiar's Ultimate Snow Foam
7 Best Snow Foam Car Wash in 2023
Get your car looking spotless and shining with Autoglym Polar Blast, as it effectively loosens dirt and contamination while being gentle on your paintwork.
Pros
Rich snow foam with superior cling
pH-neutral formulation, safe for wax and polish layers
Pressure washer or foam gun compatibility
Cons
Not suitable for soft top convertibles
Might need a second round for stubborn mud
Requires follow-up with Polar Wash and Polar Seal for best results
Your car deserves a quality pre-wash, and the Autoglym Polar Blast is just the right option. Its rich snow foam provides superior cling, effectively loosening dirt and contaminants.
Moreover, its pH-neutral formulation ensures that your car's existing wax and polish layers remain unharmed. So, Polar Blast from Autoglym is a solid recommendation for ceramic-coated cars.
In fact: Polar Blast is the snow foam car wash I have used for the last three years since owning my Tesla Model 3, which I got ceramic coated.
And it's backed by recommendations by Tesla drivers on various Tesla forums.
Applying Autoglym Polar Blast is a breeze; you can use a pressure washer or a foam gun.
The maker of this product recommends following up with Autoglym Polar Wash and Autoglym Polar Seal, ensuring a thorough clean and a long-lasting shine. With a 2.5L bottle, you can easily manage up to 25 washes, making it a cost-effective option.
However, it is worth noting that the Autoglym Polar Blast is not suitable for soft-top convertibles. So, if your car has one, you might want to consider another product.
This snow foam pre-wash from Autoglym is a fantastic addition to your car cleaning routine. With its efficacy and ease of use, you'll enjoy superior results every time.
The Autoglym Polar Blast Snow Foam has received high praise from users on Amazon, with a rating of 4.6 out of 5 and over 21,000 global ratings. Most users find it incredibly effective at loosening dirt and grime while being gentle on the paint.
Experience a high-quality car wash with Pro-Kleen Cherry Snow Foam, suitable for those looking for a super thick foam combined with wax for a gleaming finish.
Pros
High-quality and super thick foam for effective cleaning
Rich ingredients with added wax for a shiny finish
pH-neutral and non-caustic
Versatile, suitable for all car exteriors and snow foam lances
Cons
Some users find it a bit overpriced
Foam thickness may vary depending on the foam lance used
Pro-Kleen Cherry Snow Foam boasts an impressive blend of ingredients and generous amounts of wax, providing a thorough cleaning experience while leaving your car with a gleaming finish. The foam lifts even the toughest dirt and grime from your car's bodywork, making it an ideal pre-wash solution.
Plus, the pH-neutral non-caustic formula makes it safe for all car exteriors and pairs well with various snow foam lances. You can choose the scent that best suits your preferences with a choice of fragrances available on Amazon.
However, it's worth noting that some users found the product slightly overpriced for its performance. Additionally, foam thickness may vary based on the foam lance you use. I recommended using a high-quality lance to achieve the thickest foam possible.
Consider Meguiar's Ultimate Snow Foam if you're after an effective, PH-neutral, and long-lasting snow foam for your car.
Pros
PH neutral formula
Extremely long-lasting foam
High cleaning performance
Cons
Temperature sensitive formula
Limited scent options
Challenging bottle design for pouring
As a car enthusiast, you'll appreciate Meguiar's Ultimate Snow Foam's excellent cleaning performance. The pH-neutral formula ensures it's safe to use on any car surface without causing damage or discolouration. Its long-lasting foam effectively absorbs dirt and grime, leaving your car looking brand new.
However, the temperature-sensitive formula may cause lumps in the bottle if stored under 11 degrees. While these lumps go away when the bottle is kept in temperatures above 11 degrees, it's something to remember when storing the product.
In addition, some users have reported difficulty pouring the product from the bottle due to its design. A small funnel is recommended to minimise wastage while transferring the liquid to your spray bottle or power washer dispenser.
Overall, Meguiar's Ultimate Snow Foam is a top performer that delivers impressive results, making it a noteworthy contender for the best car wash snow foam in 2023.
Gtechniq Auto W4 Snow Foam Car Shampoo and Degreaser For Cars, 100% Biodegradable Non-Caustic Pre-Wash Snow Foam Car Wash, 1L
USE BEFORE CAR WASHING TO LOOSEN DIRT – apply to paint and let the thick foaming agents and degreaser lift off stubborn dirt and road grime to make car washing much safer, easier and quicker.
BIODEGRADABLE, NON-TOXIC AND NON-ACIDIC – not only is the gentle yet effective formula harmless to the environment. It's also gentle on your paintwork and does not remove any sealants, ceramic coatings, wax or polish
HELPS AVOID SCRATCHES ON YOUR PAINTWORK – the non-caustic formula combines an effective citrus degreaser with a strong foaming agent that lubricates the dirt particles to minimise surface abrasion.
You should consider Gtechniq Auto W4 Snow Foam for a safe and effective pre-wash foam to protect your car's paintwork against scratches and dirt.
Pros
Biodegradable, non-toxic and non-acidic, safe for paintwork and environment
Effectively loosens dirt and road grime
Lubricates dirt particles to reduce surface abrasion
Non-caustic, pH neutral; safe for all coatings
Cons
A larger bottle size might be necessary for extensive use
May not meet expectations for removing heavy dirt
Gtechniq Auto W4 Snow Foam Car Shampoo and Degreaser is a fantastic option for a car pre-wash solution. The biodegradable, non-toxic, and non-acidic formula is environmentally friendly and gentle on your paintwork. It does an excellent job of loosening dirt and grime before a car wash, making cleaning much easier and quicker.
The unique combination of citrus degreaser and foaming agent helps to lubricate dirt particles on your car's surface, ensuring minimal surface abrasion and protecting your precious paintwork. W4 is made by the world leader in molecular nanotechnology, guaranteeing cutting-edge performance and results.
However, you may need a larger bottle if you plan on washing your car frequently, as the 1L size might not suffice for extensive use.
Some users found the foam not as effective for removing heavy dirt and may require thorough mixing and application.
Overall, Gtechniq Auto W4 Snow Foam provides an engaging, safe, and environmentally conscious solution for pre-wash, making it a great choice for your car cleaning routine.
It's rated 4.4 out of 5 based on 500+ Amazon reviews.
Sale
Turtle Wax Cherry Snow Foam 53111 – Thick, Rich Car Shampoo & Wash Removes Road Film, Grease, Oil & Dirt – Streak Free Formula Safe for All Paint, Tires, Wheels & Trim
Thick Foam – Turtle Wax Sow Foam is a super thick and fluffy car shampoo that blankets your car to lift of road film, grease, oil, and dirt that would otherwise be moved around the vehicle
PH Balanced – Our Snow Foam formula is PH balanced so is safe to use on all exterior surfaces and will not strip any existing car waxes or sealants. This product can also be used on Caravans, Lorries, Trucks & Motorbikes
Streak Free – Our formula has advanced hydrophobic polymers that make for streak-free rinsing while also enjoying the scent of Cherry while washing your vehicle
For a satisfying and thorough car cleaning experience, Turtle Wax Cherry Snow Foam is the ideal choice.
Pros
Thick foam that lifts off dirt and grime effectively
PH balanced formula safe for all exterior surfaces
Streak-free rinsing with a pleasant cherry scent
Rated 4.4/5 based on 3800+ Amazon reviews
Cons
Some users reported the foam dissipates too soon
Turtle Wax Cherry Snow Foam 53111 is a car shampoo that blankets your vehicle to lift the off-road film, grease, oil and dirt that would otherwise be moved around the car.
The product's PH-balanced formula is safe to use on all exterior surfaces and will not strip any existing waxes or sealants. This snow foam can also be applied to caravans, lorries, trucks, and motorbikes, making it a versatile cleaning option.
While the formula effectively cleans regular cars, it may not be suitable for deep cleaning occasional family cars, requiring a more heavy-duty solution in such cases as quite a few users reported in Amazon reviews.
I couldn't help but notice the overall impressive reviews of this foaming car wash shampoo though.
Turtle Wax Snow Foam has 3800+ reviews on Amazon, giving an overall rating of 4.4/5. However, many lower 1/2/3-star ratings recommend the Autoglym Polar Blast instead.
The Dirtbusters Snow Foam is a great choice if you are after an effective prewash snow foam solution that comes with premium wax.
Pros
Highly concentrated formula with cherry scent
Long cling time for better dirt removal
Contains premium polymer car wax for a shiny finish
Cons
May require a sponge for hard-to-clean areas
Not suitable for ceramic-coated cars
Compatibility with specific foam lances or guns may vary
The Dirtbusters Snow Foam Car Shampoo and Wax is a highly concentrated cherry-scented cleaner which, when used with a snow foam gun, produces a thick layer of foam to lift dirt, grease, and grime from your vehicle's exterior.
With its extra thick foam and long cling time, the cleaner encapsulates and safely lifts stubborn dirt from your car's surface, acting as a gentle traffic film remover.
In addition to offering effective cleaning, this foaming car wash also contains a premium polymer car wax that leaves a streak-free, spotless finish with extra hydrophobic water beading protection. This helps to repel muck, and grime enhancing the colour of your paint finish.
The Dirtbusters Snow Foam is compatible with various snow foam gun attachments and can be used as part of your car cleaning kit or car detailing kit for a professional finish. However, it is essential to note that it may not be a perfect fit for ceramic-coated cars and may require assistance from a sponge for hard-to-clean areas.
SnowPro Snow Foam Shampoo Car Wash 5L Soap pH Neutral Vehicle Cleaning Detailing Pre Wash Cherry Fragrance
SnowPro's super-thick snow foam gives you a quick and easy way to clean up your car. It's a powerful pre-wash that creates a thick, clingy foam for increased contact time
The powerful cleaning agents inside the foam quickly break down dirt and traffic film, allowing you to simply rinse most of it away
Despite its extreme cleaning formula, SnowPro Ultimate Snow Foam is pH neutral. This means it's suitable for use on any vehicle – even on cars with very sensitive paintwork
For an efficient and gentle pH-neutral and non-caustic snow foam pre-wash solution, consider SnowPro Snow Foam Shampoo.
Pros
Super-thick foam for easy cleaning
pH-neutral formula, safe for sensitive paintwork, wax and coatings
Suitable for all car parts
Cons
Foam may be thinner compared to the other options
Results could vary depending on the pressure washer and foam lance
SnowPro Snow Foam Shampoo provides a quick and effortless way to clean your car. The super-thick foam clings to your car's surface, allowing maximum contact time and rapid dirt and traffic film removal. This powerful pre-wash solution makes rinsing off the grime a breeze without compromising your car's paintwork.
This pH-neutral snow foam is gentle on your vehicle despite its strong cleaning capabilities. It is safe for use on cars with even the most sensitive paintwork and can be used on various parts, including diamond-cut alloys, lacquered wheels, wax seals, rubber, plastic trim, glass, and mirrors.
Not only does SnowPro Snow Foam offer powerful cleaning, but it also minimises the risk of scratches and marks during the cleaning process. By safely lifting dirt and grime from the car's surface, you can achieve a streak-free finish without causing any damage.
If you value efficiency and care for your car's paintwork, this snow foam shampoo is worth trying. It is also one of the cheap snow foam options out there.
Sale
Autoglym Polar Wash, 2.5L – Snow Foam Car Shampoo Safe for Wheels, Paint & Trim
Safe and effective snow foam car shampoo for home pressure washers. Polar Wash creates a thick, high-cling, blanket of car foam shampoo
Specially formulated surfactants easily encapsulate and remove dirt, traffic film and road grime that could otherwise be moved around the car
Designed for application through a pressure washer with a foam gun. Safe to use on wheels, tyres, paint & trim. It will not remove previously applied waxes or sealants
Autoglym Polar Wash is the perfect combination of snow foam and shampoo for your car, providing a high-cling foam that easily cleans your car bodywork, tyres, wheels, and trim.
Pros
High-cling car shampoo foam
Encapsulates and removes dirt easily
Touchless clean for lightly soiled vehicles
Cons
Requires pressure washer with foam gun for application
Pre-washing with snow foam advised for stubborn dirt
Not as effective on heavy dirt without agitation
Autoglym is a well-known brand, offering superior quality products for vehicle care. Polar Wash is an excellent choice if you're looking for an efficient car shampoo/snow foam 2-in-1 combination that removes dirt without causing damage.
Its high-cling foam easily encapsulates dirt and traffic film for effective cleaning. Designed for use with a pressure washer and foam gun, Polar Wash is easy to apply and safe to use on wheels, tyres, paint, and trim without removing waxes or sealants.
Because Autoglym Polar Wash is a shampoo and snow foam blend, you could skip the pre-wash step provided you're dealing with lightly soiled vehicles.
Polar Wash can provide an impressive clean when used independently with a little agitation with a wash mitt. This makes it perfect for a quick clean as part of your weekly wash routine.
However, for heavier dirt, such as mud and road grime, pre-washing with a dedicated snow foam is advised to lift the dirt before applying the shampoo.
To achieve the best results and protect your car's surface, follow up with Autoglym Polar Seal, a durable hydrophobic coating for a complete snow foam car care system.
Buying Guide
Choosing the right snow foam can significantly affect the results you achieve. You'll find various options on the market formulated with different active ingredients.
Some key points to look for include excellent cleaning and degreasing abilities, ease of application, and compatibility with wax and sealants.
Let's look at a few of them to help you choose the best car snow foam:
Foam Thickness
When choosing a snow foam for your car, consider the foam thickness. Thicker foams stick to the vehicle's surface for longer, providing better cleaning action. Look for products that produce rich, super thick, dense foam.
pH-Neutral Snow Foam
As you shop for snow foam, pay attention to the pH level of the snow foam. Consider selecting a pH-neutral option which is gentle on your car's paintwork and protective coatings.
A pH-neutral snow foam will provide the necessary cleaning power while remaining mild on your vehicle's paintwork and is safe for regular use. These products balance cleaning and protection. This is especially important if your vehicle is coated with ceramic protection.
However, stronger, slightly alkaline formulas may be necessary for removing stubborn dirt and grime.
| pH Level | Use |
| --- | --- |
| Neutral | Frequent, gentle cleaning |
| Alkaline | Occasional, more aggressive cleaning of stubborn dirt and grime |
Concentration
Snow foams come in different concentrations. Higher concentrate solutions require less product per wash, making them more cost-effective. Plus, a highly concentrated snow foam allows you to adjust the dilution ratio to match the level of dirt and grime on your car.
Easy-to-rinse
Look for snow foams that rinse off easily. These products minimise the need for additional cleaning, thus saving you time and effort.
Compatibility
Ensure the snow foam you choose is compatible with your foam cannon or lance. Check the product specifications and your equipment to make sure they are a perfect match for optimal performance.
Biodegradability
Environmentally friendly snow foams reduce your ecological impact. Look for biodegradable products that break down into harmless components and prevent pollution.
Remember always to read product descriptions and reviews to make informed decisions when selecting the best snow foam for your car in 2023. Avoid exaggerations and false claims, and focus on the features and qualities that matter to you.
What is Snow Foam?
Snow foam is a pre-wash cleaning solution designed specifically to be applied to a car as foam. It helps to loosen dirt, grime, and contaminants from the surface of your car, making it easier to wash the car and helping to prevent scratches on the paint.
You apply the snow foam using a foam lance, which creates a thick layer that clings to the vehicle's exterior.
The snow foam's unique formula breaks down stubborn dirt and contaminants before you hand-wash your car. This significantly reduces the risk of scratches and swirl marks often caused by debris remaining on the paint during washing.
Using snow foam is a crucial step in preserving your car's paintwork and maintaining its appearance. It not only makes the washing process easier and more effective but also enhances the overall cleanliness of your vehicle.
Depending on your needs, different snow foam products offer varying cleaning performance and dwell time.
Remember that snow foam isn't a substitute for washing your car with proper car shampoo. It's a pre-wash treatment that should be followed by a thorough wash to ensure all dirt is removed from your car's surface.
What Does Snow Foam Do?
Snow foam helps to break down dirt and grime on your car's surface. As you apply it, you'll notice the thick, foamy substance clings to your vehicle's surface, which allows it to penetrate and loosen any stubborn contaminants.
When you're using snow foam, be sure to cover every inch of your car's exterior. This will ensure that all dirt and grime are adequately tackled. Remember, the goal is to make the washing process easier and more effective.
Benefits of Using Snow Foam
Here are some key benefits of snow foam:
Safe cleaning: Snow foam is a gentle cleaning method, preventing the risk of scratching your car's paintwork during the main washing process.
Efficient: Snow foam cuts down on the time and effort required to wash your car, as it lifts dirt and grime, making it easier to rinse off.
Improved bonding: Snow foam creates a stronger bond with dirt particles, allowing for better removal of grime, bugs, and other debris than traditional washing methods.
Does Snow Foam Work?
Snow foam is known for its effectiveness in lifting dirt and grime off your car's surface. When you apply it, the foam clings to your vehicle, breaking down the contaminants before you begin washing. This reduces the risk of swirl marks and scratches during the main wash.
How to Use Snow Foam Without a Pressure Washer?
If you don't have a pressure washer, you can still use snow foam by following these steps:
Mix the snow foam solution with water according to the manufacturer's instructions. Usually, a ratio of 1:9 (snow foam: water) is recommended.
Pour the mixed solution into a pump sprayer or foam gun.
Spray the snow foam onto your car, ensuring it covers all surfaces, including wheels and lower panels.
Allow the snow foam to dwell for about 5-10 minutes.
Rinse the car thoroughly with a garden hose, starting from the top and working your way down.
Using snow foam with a pump sprayer or foam gun may not produce as thick foam as a pressure washer, but it will still help to loosen dirt and grime on your car's surface.
FAQs
Is Snow Foam any good?
Yes, snow foam is an effective pre-wash solution. It helps to break down dirt and grime on your car's surface, making removing it easier during the actual wash process. By using snow foam, you can minimise the risk of scratching your car's paintwork when washing.